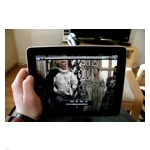 Streaming video-on-demand (SVOD) and over-the-top (OTT) online video services are proving increasingly attractive to U.S. viewers. Highlighting the challenge to cable and TV broadcasters, over 70 percent of SVOD subscribers stream TV shows during primetime hours, according to a new study from E-Poll Market Research.
"With the 'NewFronts' and 'Upfronts' for the Fall TV season in full swing this month, advertisers are keenly aware of the shifts in digital content discovery patterns, and as the availability and quality of SVOD and OTT continues to penetrate the market, they will be deciding where to place their bets to reach their targeted consumers," E-Poll highlights in a press release.
Streaming Video Subscribers
Surveying 1,156 Americans ages 13-54 who have streamed a full-length TV show in the past six months, E-Poll found that Netflix subscribers by a six-to-one margin think Netflix original programming is better than that on traditional TV. Across the main SVOD services, 85 percent of subscribers said the quality of SVOD original programming is as good or better than network programming. The survey is the first in an expected E-Poll series entitled, "Streaming, OTT & Binge Viewing: The New TV Landscape."
Binge-viewing is the preferred way of watching TV series among survey participants, young adults in particular. Over two-thirds (75 percent) of Millennials said that "having a full season of episodes available makes their viewing experience 'more enjoyable.'"
Furthermore, over half of TV viewers said they have waited until a full season of episodes was available before they began watching their favorite shows. "While the 'bingers' are storing up shows, there is an opportunity for new shows to be sampled during this period so placement and timing of program campaigns is critical," E-Poll says.
Image courtesy of flickr user bendodson.