Are BEAD fiber deployment goals too ambitious? It's a topic that's being passionately debated by supporters and detractors.
It's only Wednesday and already this week Telecompetitor received a report from telecom cost analyst Mike Conlow arguing that there is enough money in the BEAD program to fund most unserved and underserved locations, as well as a separate analysis from Wireless 20/20 arguing that many states may not have sufficient funding to bring fiber to every unserved location in every county. 
It's an important discussion as we count down the kickoff to the BEAD program, targeted for June 30 when states are expected to receive their funding allocations.
Here are the key takeaways from the two latest analyses.
Conlow: There's About Enough Funding
Conlow's analysis was triggered, in part, by a previous analysis from a wireless equipment manufacturer arguing that there isn't enough BEAD funding to meet deployment goals. Although Conlow doesn't name the company, he appears to be talking about an analysis from Tarana Wireless.
That research was based on an estimated 16 million unserved and underserved locations nationally. That number, based on census data, is too high, Conlow said. Instead, he argues that the number of unserved locations is more like 12.8 million, a number based on FCC data.
Conlow also said that the other research overestimates the number of extremely high-cost locations and doesn't account for the fact that those locations are not targeted to receive fiber broadband in the BEAD program.
In his analysis, Conlow estimated broadband deployment costs based on the reserve price from the 2018 Rural Digital Opportunity Fund (RDOF) program, which was based on a cost model developed by CostQuest, a company that consults frequently with the FCC on broadband cost issues. Adding 25% to the average cost from the RDOF program yielded an average cost per location of $5,266.
Multiplying this by 12.8 million unserved and underserved locations yields a cost to reach everyone via fiber at $64.5 billion. Considering that providers are required to contribute at least 25% of project costs, that suggests that the $42.5 billion BEAD budget would be sufficient to reach its goals.
As Conlon notes, many winning RDOF bidders were willing to invest more than 25% of project costs and perhaps the same will be true for the BEAD program.
Another factor to consider is that extremely high-cost areas aren't targeted to receive fiber in the BEAD program, Conlow argues. He points to an estimate from CostQuest showing that deployment costs rise steeply for the costliest 1.3 million locations and "really hockey stick" for the last 650,000 locations.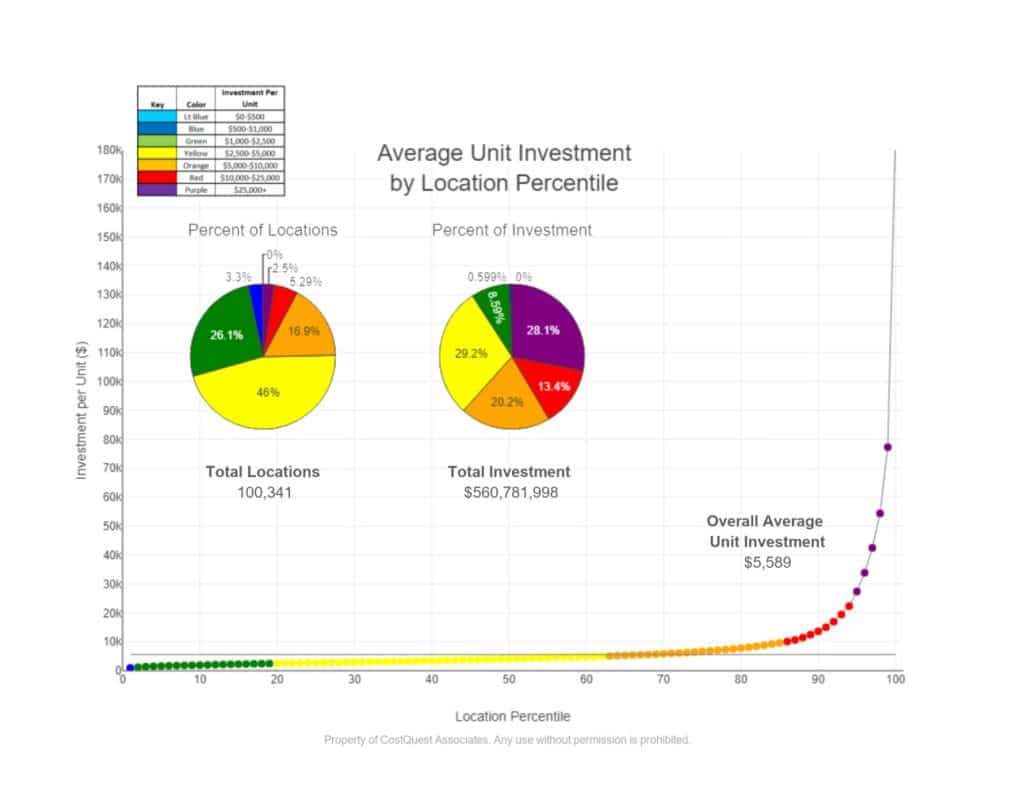 "While it is interesting to consider these locations, no state is going to try to build fiber to them," he argues. Instead, BEAD rules allow states to fund other technologies for the highest-cost locations.
When all these factors are considered, Conlow said, there is enough, or almost enough, money in the BEAD program based on current rules.
He cautions, though, that a public cost curve for every state is critical.
"If states don't have the cost curve data and the ability to run a grant program that optimizes on it, BEAD will run out of funding for sure," he said.
Wireless 20|20: There's Not Enough Money
Wireless 20|20 is a consultancy that, according to the company, has done a capex analysis for fiber deployments in over 800 counties. In a white paper, the company said it has "concluded that it is critical to have accurate data regarding the minimum number of fiber access miles needed to serve the set of locations to be analyzed."
The company goes on to say that this requires analyzing the most economical paths connecting locations.
"Each area requires its own fiber mile analysis based on an actual network design," the white paper argues.
The researchers applied this methodology to 10 counties in Georgia to estimate whether BEAD funding would be sufficient to provide fiber to all unserved locations in the counties. According to the white paper, the counties represent a typical mix of exurban and rural areas with an average of 1,795 unserved locations each.
The analysts estimated that Georgia will receive $1.6 billion in BEAD funding, which works out to $4,791 per targeted location. The analysis also assumes that service providers will cover 50% of project costs—a percentage that is higher than the 25% minimum – for total available investment of $9,582 per location.
The researchers estimated fiber deployment costs assuming 90% of fiber is aerial (at an average cost of $60,000 per mile) and 10% is buried (at a cost of $200,000 per mile).
Based on this analysis, the researchers found that all 10 counties would have insufficient funding to cover deployment costs.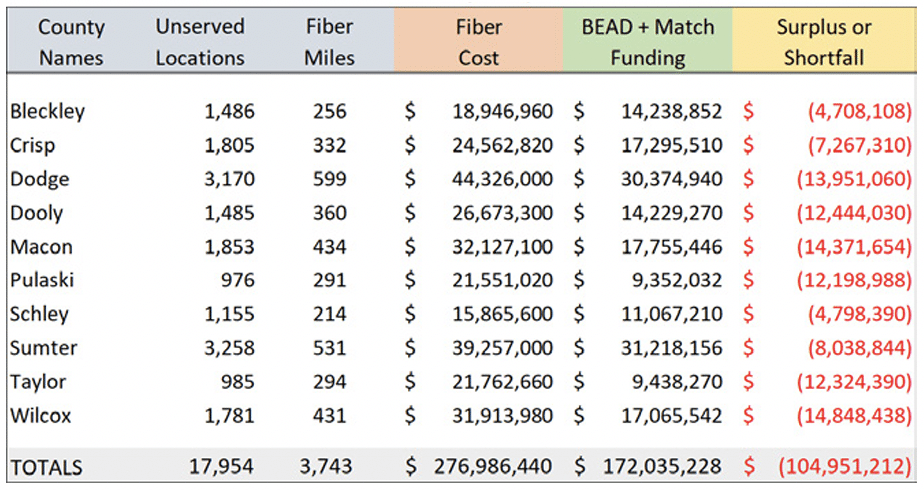 The researchers note that some states may have enough funding because of the way BEAD allocations are calculated. All states get at least $100 million, which means that states with small numbers of unserved locations are most likely to have plenty of funding to reach those locations.
Nevertheless, the researchers argue that "it will be challenging for many states to connect all unserved homes with end-to-end fiber networks" and that "counties, locations and technology choices have to be prioritized."
Ironically, Wireless 20|20's final words are similar to Conlow's.
"These priorities and choices cannot be made effectively without a maps-based analysis that shows, among other things, the fiber route miles needed to connect the unserved locations," Wireless 20|20 said.