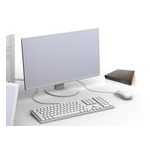 Service providers have a new option for delivering broadband to rural areas with the announcement today of a new product dubbed DTVCast REACH. The product, which comes from DTVCast Corporation, uses licensed UHF television spectrum to support speeds of up to 18 Mbps over distances of up to 40 miles or more, said DTVCast President John Kyle in an email to Telecompetitor.
"Service providers will need to own a TV license or partner with an existing TV broadcaster to use their excess TV spectrum," explained Kyle.
One advantage of this approach is that service providers can use existing UHF broadcast infrastructure to minimize deployment costs. "Plug our DTVCast headend system into the operating broadcast TV station and broadband Internet is available immediately within 25 to 40 miles," Kyle said. The lower end of the range is for low-power TV stations, while the higher end is for full-power TV stations.
To use the service, customers need a traditional over-the-air TV broadcast antenna, which connects to a customer premises device that is designed to be self-provisioning. Depending on the distance from the broadcast tower, the customer will use either a rooftop-mounted antenna or indoor "rabbit ears."
For the return path, service providers need to use an existing data connection such as DSL, dial-up, or cellular. A typical service provider might use DTVCast REACH for its most distant customers who currently lack options for obtaining equivalent bandwidth.
A single tower can support 250 to 650 subscribers depending on a number of factors including TV spectrum availability, Kyle said.
DTVCast REACH is similar to TV white spaces equipment in that it uses television broadcast spectrum to deliver broadband service. But TV white spaces devices use spectrum that is not being used by broadcasters, while DTVCast REACH uses licensed spectrum.
The advantage of using licensed spectrum is that equipment using that spectrum can operate at higher power, thereby boosting its range, said Kyle.
Potentially service providers could use either TV white spaces equipment or DTVCast to qualify for funding through the Connect America Fund program, which aims to cover some of the costs of bringing broadband to rural areas that currently lack broadband at speeds of 4 Mbps downstream and 1 Mbps upstream because they are costly to serve.