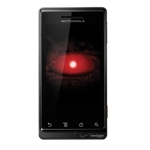 Verizon announced their first Android powered smartphone, the Motorola DROID, will be available November 6th. "This is an exciting announcement for Verizon Wireless, as the DROID by Motorola is the first device that we are bringing to market under our ground-breaking strategic partnership with Google," said John Stratton, executive vice president and chief marketing officer for Verizon Wireless.
Verizon hopes this latest addition to their smartphone inventory will help counter AT&T's iPhone smartphone dominance. Other devices engaged in this battle include the recently released BlackBerry Storm 2.
DROID will be priced at $199, after a $100 rebate. Verizon and Motorola say the DROID features the Android 2.0 platform and has 12,000 applications available to it. By comparison, the iPhone just passed the 100,000 application threshold. DROID features a variety of Google mobile services, including:
Google Maps: With layers in Google Maps, view geographic information, such as My Maps, Wikipedia, and transit lines, right on the map.
Gmail: Multiple accounts support and undo for common operations.
YouTube™: One-touch recording and playback from homescreen widget or app, one-touch sharing with friends, and the ability to view your own uploaded videos and high-resolution videos.
Google Talk™: Easily switch between chats, search your chat history, and preview pictures and videos sent by links.
Android Market: Browse and download applications created by third-party developers.
Calendar: Ability to see who has R.S.V.P.'d to your meeting invitations.
Amazon MP3 Store: Download the latest tracks over the air.
Verizon Wireless Visual Voice Mail: Delete, reply and forward voice mail messages without having to listen to prior messages or voice instructions.