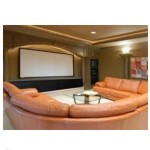 Voice activated control for our electronics is here, and Apple's Siri may be the best demonstration of its capabilities. Nuance is one of many companies who hope to take this new voice control experience into the realm of home entertainment. At this week's Consumer Electronics Show (CES) in Las Vegas, the Burlington, Massachusetts-based digital home entertainment technology start-up unveiled Dragon TV, a voice and natural language remote control platform for TV, device and set-top box original equipment manufacturers (OEM).
Dragon TV enables viewers to find digital TV content by voice recognition of channel numbers, station names, show and movie names, as well as actors' names and genre. Also built-in are voice activated connections to social media, such as Twitter, Facebook and Skype.
It's become increasingly difficult for viewers to keep track of and navigate through all the TV, IPTV and OTT video content available today with existing push button, wireless remote controls, Nuance notes. More than 1.6 billion TVs will be connected to the Internet by 2014, according to Strategy Analytics.
Nuance believes its natural language voice recognition platform is the solution. ?Traditional search on televisions is tedious and amazingly outdated, said Michael Thompson, senior vice president and general manager, Nuance Mobile. Dragon TV brings this voice experience directly to the living room, similar to what people do every day on their phones and in their cars? In addition to recognizing instructions to find and play shows on particular devices, the platform can also answer queries. Among the variety of voice commands it recognizes are the following:
Go to PBS
What's on Bravo at 9 p.m. tonight
When is Ellen on
Watch Dexter on DVR
Find comedies with Vince Vaughn
Play David Guetta on Music Choice
Viewers can also use voice commands to send email, update their social media sites and initiate Skype calls. Key to its commercial success is the ease with which OEMs and service operators can "seamlessly embed" the system within TVs, set-top boxes and digital broadcast and multicast services. Dragon TV "can be integrated across embedded, connected and hybrid modes, allowing OEMs and service operators to take advantage of the content available on the device and in the cloud," according to Nuance. Implementations are available for all major TV, set-top box, remote control and application platforms, including Linux, Android and iOS.