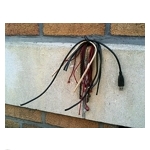 Anyone who says video cord cutting is no big threat should take note of the news today from Mohu, a company that developed new low-profile antenna technology for receiving over-the-air TV broadcasts. The company announced that it grew 700% in 2012, suggesting there is more than a small amount of interest in consuming traditional broadcast television – perhaps in combination with Internet-delivered over-the-top video – as an alternative to paid television from a cable company, telco or satellite provider.
I first heard of Mohu just over a year ago when the company put out a press release saying Time Warner had refused to air a Mohu ad telling viewers they didn't need cable. Mohu is just one of several companies – including WallTenna and Aereo – that have recently developed new TV antenna technology.
WallTenna offers a see-through antenna and Aereo has garnered a lot of attention with a monthly service based on remote Internet-connected dime-sized antennas.  To date Aereo has managed to fend off legal challenges from broadcasters who have grown accustomed to receiving retransmission fees from cablecos and other paid TV providers.
As more and more video content becomes available for free or at low cost over the Internet and with sales of Internet-connected TVs on the rise,  more than a few people have embraced the idea of combining those options with over-the-air broadcast TV and ditching their pay TV service provider. And pay TV providers, driven by escalating programming costs, may have helped fuel this trend through increased prices.
Ironically increased interest in broadcast TV comes at the same time that the government is putting plans in place for a voluntary incentive auction of TV broadcast spectrum – an idea that came about specifically because broadcast TV viewership had declined so much since the advent of cable TV in the 1980s.
Will TV broadcasters opt to give up some or all of their spectrum holdings in exchange for sharing auction proceeds with the government? Or will increased interest in free TV cause them to decline to participate in the auction?
It's not an all-or-nothing question. As a result of the 2009 conversion to digital TV broadcasting, broadcasters ended up with more spectrum than they needed just for traditional TV broadcast. Some of them have played around with new uses for their extra spectrum – including offering viewers alternate camera views or delivering television broadcast to cellphones. But options such as those haven't exactly been home runs so potentially broadcasters could forego those options, continue offering their regular programming and sell just part of their spectrum.
Broadcast TV is an area that communications service providers need to keep tabs on for at least two reasons – to gauge its strength as an alternative to telco, cableco and satellite video offerings and to gauge how much broadcast spectrum is likely to get freed up for mobile broadband (as well as what service providers will have to pay to get it).