The Walt Disney Company provided details yesterday about the direct-to-consumer video streaming service it said will launch on November 12. The service, dubbed Disney+, will sell for $6.99 a month and will include theatrical and television content, including more than 25 original series and 10 original films.
The company first revealed plans for a streaming video offering in 2017, which the company said would launch this year. At that time, the company said it planned to pull back Disney and Pixar content from other streaming services so that the content would be available exclusively through Disney's own service.
Disney+
In a press release, Disney revealed some of the content that will run on the new service, including:
Two live-action and one animated series from Marvel Studios
A documentary series about making Frozen 2 from Walt Disney Animation Studios
Several projects from Pixar Animation Studios, including an animated short series and a short film
Two documentary series from National Geographic
An animated film from Disney Television Animation
The company also reiterated previously announced original series and movies that will be available on Disney+, including a live-action Star Wars series, the Marvel Studios series Loki, a live-action version of Lady and the Tramp and others.
Disney+ also will offer all 30 seasons of The Simpsons beginning on day one, along with "family-friendly" Fox titles such as The Sound of Music, The Princess Bride and Malcolm in the Middle.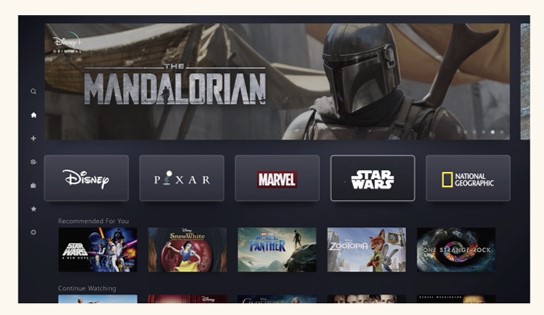 In total, the service will have more than 7,500 television episodes and 500 films, according to the press release.
Disney also touted a "feature-rich product experience" for Disney+, which the company said will make it easy for subscribers to navigate, discover and watch their favorite programming. Features will include dedicated "immersive branded tiles" and dedicated pages for Disney, Pixar, Marvel, Star Wars and National Geographic. Subscribers will be able to create custom profiles and receive personalized experiences curated based on their past behaviors and content preferences.
The offering will be available on a wide range of mobile and connected devices, including gaming consoles, streaming media players and smart TVs. Subscribers will receive the best playback resolution supported by the device they are using and bandwidth available, including 4K HDR video playback.
The company also pledged that an "unprecedented" amount of content will be available for offline viewing, giving subscribers the ability to download content.
Although the streaming video field is becoming increasingly crowded, Disney+ appears to be making a strong case, with both a heavy dose of original content with a competitive price of $6.99.  Netflix, a prime competitor, prices a comparable service at $12.99. More options are coming including a soon to launch offer from Apple, and a streaming service from AT&T's WarnerMedia.