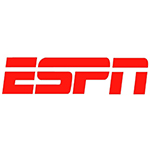 It's just been a matter of time. It's now confirmed by Disney executives that Disney and ESPN OTT streaming services are now on tap, embracing a direct to consumer model for content distribution. Disney CEO Robert Iger confirmed the plans on Disney's quarterly earnings conference call  yesterday.
"[W]e're also announcing a major strategic shift in the way we distribute our content. We're excited by this change and see it as an important logical way for us to take advantage of the combination of our strong brands with the technological evolution the entire media business is undergoing. It's been clear to us for a while with the future of this industry will be forged by direct relationships between content creators and consumers," said Iger on the earnings call (transcript courtesy of Seeking Alpha).
ESPN OTT Streaming
By early 2018, Disney plans to launch an ESPN OTT streaming service that will leverage the widely used ESPN app. The new ESPN OTT streaming service will not be the flagship ESPN channel featured on legacy pay-TV subscriptions. Not yet anyway. Rather, it will be a multi-sport package, featuring access to live sports and 10K additional events annually, including games from Major League Baseball, the National Hockey League, Major League Soccer, Grand Slam Tennis, and college sports, the company announced. No mention of NFL and NBA games.
Disney and ESPN are walking a bit of a tightrope here, because they have to balance the legacy TV business with this new direct to consumer streaming OTT model during this transitional phase.
"We'll fully integrate the new subscription service into the same app as part of our strategy to create the premier digital destination for sports," said Iger. "Consumers, who are pay-TV subscribers, will also be able to access the ESPN television networks in the same app on an authenticated basis."
Disney OTT Streaming
Following in 2019, a Disney branded OTT streaming service will launch. It will be the exclusive U.S. home for SVOD viewing of Disney and Pixar content. Titles like Toy Story 4, the sequel to Frozen, and The Lion King from Disney live-action, along with other "highly-anticipated movies" were highlighted as the type of content that will be featured.
"We'll also be making a substantial investment in original movies, original television series, and short form content for this platform, produced by our studio, Disney Interactive and Disney Channel teams," said Iger. "Subscribers will also have access to a vast collection of films and television content from our library."
Consequently, Disney will discontinue distribution of Disney titles through Netflix, beginning in 2019. To accomplish this new approach, Disney has now acquired a controlling interest in BAMTech, the media streaming platform originally developed by Major League Baseball to stream baseball games. BAMTech is widely viewed as the leading platform for streaming media. Disney upped their interest in BAMTech to 75% from 33%, with a $1.6 billion investment.
"This move gives us immediate access to the team and the technology we need to deliver the highest quality direct-to-consumer experience, which ultimately gives us much greater control of our own destiny in a rapidly changing market," said Iger.
The move has long been anticipated, given the changing nature of the media business. ESPN is losing millions of subscribers due to cord cutting and Disney had to react. Now we know how they will. It's a transitional move. But one that no doubt provides a glimpse into the future of how Disney owned content and channels will be distributed in the future.