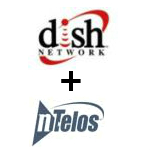 As planned, Dish Network and regional wireless carrier nTelos said today that they have commercially launched their fixed wireless Internet service in five Virginia markets. The service will support download speeds up to 10 Mbps and will sell for a competitive $29.99 monthly when bundled with a qualifying package that includes Dish satellite TV service, the companies said.
David Zufali, Dish vice president of wireless, summed up the value proposition in today's announcement. The service, he said, brings "4G LTE speeds comparable to other residential broadband services, but available in more areas, and at a better price when bundled with our award-winning TV service."
Underpinning the offering is nTelos 2.5 GHz spectrum.
Dish/nTelos Broadband Wireless
Dish and nTelos began working together on fixed broadband wireless using nTelos spectrum last year, initially installing a small trial network. Earlier this year nTelos CEO James Hyde told investors that the company was planning to expand coverage to an additional population of nearly 500,000 and would be adding customers "in earnest" this month.
The five Virginia markets to be served include parts of Charlottesville, Waynesboro, Staunton, Harrisonburg and Roanoke. Dish technicians will be responsible for installing high-gain outdoor antennas to support the offering.
The Dish/nTelos offering is an important one to keep tabs on because Dish owns considerable 2.5 GHz spectrum of its own and has talked about using it to support fixed broadband wireless to target areas that lack higher-speed alternatives to satellite broadband and low-speed DSL.
Dish also is conducting a similar trial with Sprint in Corpus Christi, Texas.
Hyde previously has said that the company anticipated serving 300 to 400 users per cellsite using 20 MHz of spectrum. nTelos officials also have said that the type of LTE technology used is TD-LTE. That technology separates upstream and downstream traffic by timeslot, enabling it to more easily support asymmetrical traffic typically seen with residential broadband service. Most of the major U.S. wireless carriers that have deployed LTE have used FDD-LTE, which separates traffic by frequency and is best suited for symmetrical traffic.