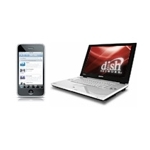 TV Everywhere has been seen as a cable MSO led effort. But don't tell that to DISH Network. Besides launching their own Sling Media powered TV Everywhere product suite, they've even applied for a trademark for the term TV Everywhere.
DISH bought Sling Media back in 2007 and has been integrating its technology into set top boxes developed by a since separately launched company Echostar Technologies LLC. "DISH Network is proud to introduce the first and only comprehensive solution for consumers to pay once for content and then remain connected to their TV everywhere," said Ira Bahr, Chief Marketing Officer for DISH Network in a company press release. "DISH Network customers will be able to enjoy their favorite live and recorded shows throughout their home and on the go, using the same program guide, menu and navigation they are familiar with on their home TV."
DISH's TV Everywhere product suite includes a new Sling adapter, the TV Everywhere Adapter, a new TV Everywhere equipped DVR set top box, and a new Wi-Fi enabled monitor. Customers can purchase the new STB or use the TV Everywhere adapter for existing STBs. The new Wi-Fi monitor allows customers to accept wireless streams of video to a portable monitor that "offers a 16 x 9 widescreen format that displays 720p HD quality and controls all features of a connected DISH Network HD DVR receiver, including viewing live TV as well as viewing and managing DVR recordings."
DISH is hoping to seize the momentum of TV Everywhere. Among other video service providers, only Comcast has launched a TV Everywhere product, branded as Xfinity. DISH appears to be one step ahead though, at least for the time being. Their product suite brings TV everywhere functionality to broadband connected PCs and laptops, as well as mobile devices. For now, Xfinity is limited to PC/laptop configurations and has limited content options. DISH's version allows access to whatever content is available on the customer's TV. DISH didn't reveal any pricing info.
Other service providers including Time Warner Cable and Verizon have announced their intentions to join the TV Everywhere initiative.  Competition is sure to heat up as video providers hitch their wagon to TV Everywhere to battle the over-the-top video threat.