The rise of the smart home and all of its interconnected gadgets has technology service providers pondering how to best maximize the opportunity. DISH, the DBS and streaming pay-TV provider, sees an opening and is going for it, with the launch of a new smart home technician service called OnTech Smart Services.
OnTech will provide in-home "[p]rofessional installation, set-up and education for the latest smart home devices and entertainment systems." The service has launched in 11 markets, with plans to expand in the future.
Smart home service installations including whole-home Wi-Fi, flat screen televisions, and smart video doorbells are a few of the featured services for OnTech. The service will offer same-day service where available. The company offers Wi-Fi network set-up for $99, with the same fee for smart doorbell installation.
"OnTech connects a growing group of consumers who want the convenience of a smart home, but don't have the time or know-how to get the most out of the latest devices," said Nick Rossetti, senior vice president of OnTech Smart Services in a prepared statement. "Our goal is to connect people with things to make life easier and technology more accessible."
In addition to providing installation and set-up, OnTech will also sell products online. Available products for purchase include Linksys Wi-Fi gateway platforms, Google Nest devices, and Ring video doorbells. Customers can arrange for purchase and installation in one online transaction (although OnTech installation services are only available in 11 markets right now).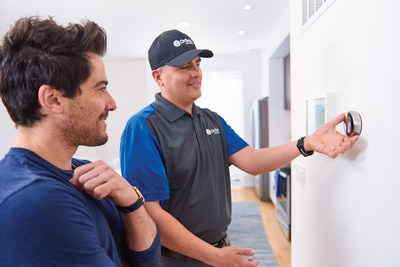 OnTech Smart Services flows from a similar service launched several years ago called DISH Smart Home Services which offered TV mounting, surround sound and home networking installation. DISH has learned much from these initial offers and formally partners with consumer electronic brands for this service. It is a Nest Pro elite partner for example.
OnTech joins a field of established competitors, including Best Buy's GeekSquad and thousands of other independent dealers/installers. DISH is making other moves in the IoT space, though, that these competitors will be unable to match, including building its own nationwide IoT-focused wireless network.
The company could potentially layer a managed IoT offering on top of this installation service one day, providing an end-to-end managed smart home service. We're a ways off from that potential, if ever. For now, DISH seems content on capitalizing on the opportunity presented by the smart home with this installation and set-up service.