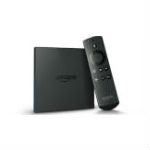 A shift in factors motivating viewers to buy digital media players is under way, according to a new digital media player survey from GfK. Rather than considering them as the means to ¨cut the cord¨ on traditional cable, DBS and telco pay-TV services, viewers are increasingly turning to digital media players as a means of enhancing the home TV and movie viewing experience.
GfK zoomed in on the top four digital media players in conducting its survey. Collectively the four – Apple TV, Roku, Google Chromecast and Amazon Fire TV – account for 90 percent of the global market.
According to the findings, 27 percent of respondents reported owning two or more digital media players. More than 6 in 10 of them (64%) said that at least one of their devices is connected to a smart TV that receives a traditional pay-TV service.
Digital Media Player Survey Findings
Nearly 6 in 10 (58%) said they use their digital media players as ¨an addition to" regular TV broadcasts. That compares to 45 percent in GfK's 2015 market study. In addition, the percentage who said that they purchased their devices as ¨replacement(s) for regular broadcasts¨ dropped from 40 to 29 percent.
"The world of connectedness and content viewing has changed dramatically just in the past two years," GfK SVP of Media & Entertainment David Tice was quoted. "Once seen as simple enablers of cord cutting, digital media players have become TV service and viewing enhancers for consumers who apparently can never have too much content.
¨Fire TV has kept the digital player market hot, creating fresh competition and interest from consumers, and we expect to see more growth as all the main players introduce improvements and new features."
Along these same lines, fewer digital media player owners said that owning them has led them to ¨cut the cord¨ on their traditional pay-TV (cable or satellite) service, according to GfK. Thirteen percent said that was the case in this year's survey as compared to 17 percent in 2014.
On the other hand, levels of cord-shaving have essentially held steady since 2014, GfK notes.
The degree to which digital media player owners consider their devices as an alternative to cable is quite low, GfK pointed out. Variety and selection has grown in importance for Roku and Chromecast users. Convenience diminished as a benefit, while reasons for liking Apple TV were more constant.
Regarding the most common activities for the top 4 digital media players, survey respondents ranked watching TV programming first and films second. That said, levels for these activities have dropped for Roku and Apple TV since 2014.