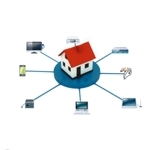 The Digital Living Network Alliance (DLNA), HomePlug Powerline Alliance and HD-PLC Alliance announced DLNA's plan to use the latter two organizations' powerline networking standards in the next version of its Networked Device Interoperability Guidelines, which are scheduled for release early this year.
Adopting HomePlug and HD-PLC's powerline networking standards into its interoperability guidelines will enable DLNA-certified products, such as game consoles, smart TVs, network storage devices, routers and access points, to be connected anywhere in the home where there is an electrical outlet.
"Providing users the ability to use wired speeds without running new wires is a logical next step as more and more consumers add second and third TVs, game consoles and other DLNA Certified® products further away from their wireless router," stated Nidhish Parikh, chairman and president of DLNA.
"DLNA continues to advance the connected home by allowing consumers to connect and enjoy their favorite content throughout their homes. Adding powerline networking as a DLNA approved solution for connectivity gives consumers expanded flexibility when setting up their home network and confidence they can enjoy their photos, music and videos on DLNA Certified® products whether connected using electrical wiring, Wi-Fi, Ethernet or MoCA."
"Consumers' desire for high speed device connectivity throughout their home is growing," said Kurt Scherf, Vice President, Principal Analyst, Parks Associates. "With an already strong deployed base of interoperable HomePlug AV products in the US and Europe and growing demand for connected services in China, including this technology in the DLNA Interoperability Guidelines is a great tool for delivering the Connected Home to consumers."