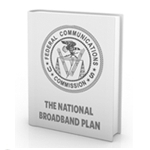 Organizing in response to and in support of the FCC's recently submitted National Broadband Plan, which calls for public-private partnerships to improve broadband adoption, a coalition of ISPs, computer technology companies and non-profit organizations, the  Digital Adoption Coalition, has filed a broadband stimulus grant application. Their goal —  to launch broadband outreach programs that would foster and facilitate broadband adoption among the 35% of U.S. households the Dept. of Commerce says do not have high-speed Internet access.
Global nonprofit One Economy filed the Coalition's Broadband Technology Opportunities Program (BTOP) grant application with NTIA on March 15 "for funding…to support digital literacy training, discounted computers, and project administration."
The grant application seeks federal funding that would see members working together with the Dept. of Housing and Urban Development to increase broadband outreach efforts in some 250,000 HUD "public housing and project-based Section 8 properties and multi-family assisted communities," according to a news release.
Digital Adoption Coalition members include AT&T, BendBroadband, Bresnan Communications, Bright House Networks, Cablevision Systems Corp., Charter Communications, Comcast, Cox Communications, Connected Nation, Eagle Communications, Inc., Dell, Intel Corporation, Mediacom Communications Corp., Microsoft, Midcontinent Communications, the National Cable & Telecommunications Association (NCTA), One Economy Corporation, Sjoberg's Cable TV, Suddenlink Communications, Time Warner Cable, US Cable Group, and USTelecom.
"Each partner intends to provide concrete solutions to facilitate sustained broadband adoption: awareness of the benefits of broadband services, digital literacy training, affordable computers and access, and relevant online tools and resources," according to the group's news release. "The coalition believes that each of these solutions is critical and interdependent in fostering broadband adoption among families that currently face barriers in this regard."