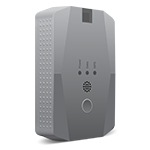 Verizon has launched a new development toolkit design to make it easier for developers, OEM manufacturers and system integrator companies to develop IoT solutions using Amazon Web Services (AWS) and connecting to the AWS IoT Core. Dubbed the DevKit by Verizon, the solution uses the Verizon ThingSpace platform to provide activation and integrated ordering as well as facilitated access for IoT services.
The DevKit is designed to make it easier for users to subscribe and manage their IoT devices (such as smart thermostats and other smart devices) and to use functions such as software management, location and diagnostics.
The launch of the toolkit marks a strategic relationship between Verizon and AWS in the IoT space and is the first of a planned series of launches from the Verizon ThingSpace Cloud Connectors program, designed to aid integration with IoT developers' existing cloud service providers.
"Instead of spending a lot of time struggling to manage IoT connections and network options, this DevKit allows customers to focus on IoT solution development for improved intelligence and business performance, knowing that the underlying connectivity is sorted," said Shawn Hakl, senior vice president, business products at Verizon, in a prepared statement. "Verizon's Secure Cloud Interconnect (SCI) solution allows companies to connect securely and reliably to AWS, so they can quickly get their IoT solutions up and running. It's about opening up the potential of IoT to everyone."
Plaban Patra, IoT evangelist at Tech Mahindra, an early user of the DevKit, added: "This DevKit is an ideal way for developers to start their first IoT project. The quick start guide helps users configure the kit and start running on AWS with little programming knowledge."