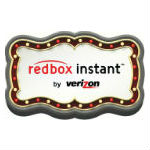 Redbox Instant by Verizon is the new OTT video joint venture between Verizon and Coinstar (parent company of Redbox). The venture was announced back in February of this year and was immediately seen as an answer to the growing success and influence of Netflix. Today, the two partners revealed more details of the service, which they report in a press release, and they plan to do an invitation-only launch later this month.
The new service will offer a bundled OTT streaming and DVD rental by kiosk for $8 per month. The $8 monthly subscription includes unlimited streaming of their on-demand movie library, as well as up to four DVD rentals from Redbox kiosks. They will also offer true on-demand access and electronic sell-through purchases of single movie titles, which will not require a monthly subscription.
Like Netflix, Redbox Instant by Verizon  will be multiscreen "…offered via the web, as well as through home entertainment, tablet and mobile devices, including iOS®, Android™, Samsung® Blu-ray Players and TVs with SmartHub™, LG Smart TV and Blu-ray Players, and Google TV."
Unlike Netflix, Redbox Instant by Verizon will focus exclusively on movie content (at least for now), with no TV show content. Much of their movie library comes courtesy of an agreement with EPIX, whose studio partners include Paramount Pictures, Lionsgate, and MGM. They also cite licensing agreements with NBCUniversal, Relativity, Sony Pictures Home Entertainment, and Warner Bros. Home Entertainment. Avail-TVN will provide transport of movie content for the venture.
With this venture, Verizon is covering another base in the broadband and entertainment arena. They already offer Verizon FiOS, a traditional subscription TV service. With Redbox Instant, they now have a viable OTT video offer that covers both in-home and mobile streaming. It's a classic "hedge your bets" move.
While underpriced to Netflix, they'll still have formidable competition in this new OTT arena. Other competitors include Amazon, Hulu, and Walmart's Vudu, among many others. We're witnessing the beginning of a pitched battle, among some significant heavyweight companies. It's unlikely they all will survive. Stay tuned…