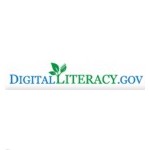 Commerce Secretary Gary Locke announced a digital literacy initiative and associated website today at a public computing center in Baltimore. Created by the NTIA and nine partnering agencies, www.DigitalLiteracy.gov "provides libraries, community colleges, schools and workforce training centers a variety of resources and tools for teaching computer and Internet skills, which are increasingly necessary for success in today's economy," according to a press release.
Intended to augment and extend to the broad public the benefits of the broadband investments being made as part of the American Recovery & Reinvestment Act of 2010 and the NTIA's BTOP program, grantees and other BTOP participants are able to post educational and training materials on the Digital Literacy program website, making them available to librarians, teachers, workforce trainers and others. The NTIA is also joining with the American Library Association and the Institute of Museum and Library Services to promote use of the portal at more than 16,600 public libraries.
Launching the initiative, Secretary Locke was joined by US Senator from Maryland Barbara Mikulski, who also serves as chairwoman of the Senate Appropriations Subcommittee on Commerce, Justice and Science, which funds the Dept. of Commerce, as well as Maryland's other senator, Ben Cardin.
"In Maryland and across the nation, people are hungry for good jobs and economic opportunity," said Senator Mikulski said. "Here at Coppin State University, and across America, with www.DigitalLiteracy.gov, we aren't just talking about the innovation economy. We're training people to be a part of it."