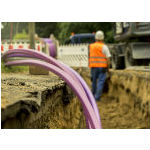 The CARES Act, which addresses the economic impact of the COVID-19 pandemic, has allocated an additional $100 million towards the USDA ReConnect rural broadband funding program. USDA has announced that denied ReConnect grant applicants can now reapply for this new funding with priority access.
The additional funding has been allocated as grants to rural broadband providers to "…prevent, prepare for, and respond to the coronavirus." USDA is setting this $100 million aside, making it available until September 30, 2021, according to the Federal Register.
According to USDA, the agency will prioritize processing for ReConnect grant applicants that submitted 100% grant applications during the first round of the ReConnect program but were unsuccessful in winning the grant. The new application must be for the same territory identified in the original unsuccessful application.
"For the application to be eligible for priority processing, the round one application must have been unsuccessful due to there being limited access to broadband in the proposed service area," the Federal Register states.
The first round of the ReConnect program initially allocated $600 million for the program. It offered grants, loans, and loan-grant combinations. The first round has closed and has identified 70 projects across 31 states and territories, awarding a total of $621 million in funding.
The second phase of the program opened on January 31, 2020, and allocated $550 million in rural broadband funding. As in the first phase, the second phase funds targets areas that largely lack broadband, defined as service supporting at least 10 Mbps downstream and 1 Mbps upstream.
Winning ReConnect grant applicants must deploy infrastructure capable of supporting speeds of at least 25/3 Mbps to the unserved locations.
Applications already submitted during the second round of funding that meet these requirements will also receive this priority consideration. Interested ReConnect grant applicants for this new $100 million set aside must reapply during the second round of the program, with applications due by April 15th.