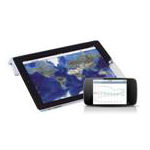 Internet users in the U.S. are "addicted to speed," according to the 3rd edition of Deloitte's "Global Mobile Consumer Survey." Not only are they willing to pay more for higher speed Internet access, they "toggle between Wi-Fi and fourth-generation (4G) wireless technologies to get the fastest possible connection for their mobile devices."
Wi-Fi access has spread rapidly in the U.S. – nearly 2/3 of smartphone users connect to Wi-Fi networks as opposed to mobile networks, Deloitte market researchers found. Forty-one percent of survey respondents said they would be willing to pay more for Internet access three to five times faster than what they have. Nearly 10% said they would be willing to spend $30 more than their current rates.
Rather than cannibalizing each other, 4G and Wi-Fi are proving to be complementary, according to Deloitte's report. 4G service subscribers "are actually more likely to seek out faster Wi-Fi alternatives when they need better speed/performance and/or are conscious about the cost of their mobile data plan (by an 11 percent margin over their non-4G counterparts)," Deloitte highlights.
Americans' Wi-Fi usage when they are  "out-and-about" and "at someone else's home"  is increasing compared to "at home" and "at work" Wi-Fi usage, Deloitte found. Forty-four percent of respondents said they had used Wi-Fi at someone else's home.
"What drives mobility and enables everything in the ecosystem is ultimately the wireless network," Deloitte LLP vice chairman and U.S. telecommunications sector leader Craig Wigginton was quoted in a press release. "As consumers become more comfortable moving between types of networks, we anticipate a 'peaceful co-existence' between Wi-Fi and 4G to support all types of activities, be it for work, play or new types of social interactions."
Examing how large a role cost plays in choosing a smartphone, Deloitte market researchers found a wide difference between smartphone owners and non-owners. The former rated price last among the most common reasons for choosing a a particular smartphone while the latter rated it highest.
Deloitte's research revealed that the number of mobile app downloads and spending per-app have both decreased from to 2012-2013. This occurred in the U.S., where app downloads have fallen 13%, as well as across other countries. The biggest decline was among tablets.
"The good news is, we see a lot of potential remaining in the apps market space over the long term," Wigginton commented. "We believe that the overall declines indicated in this year's survey may be due to increasing sophistication among consumers. It is likely that they have already obtained the core apps they prefer for work and play, with those choices persisting over time as they upgrade and change their devices."
Deloitte also found personal mobile device usage rising in the workplace: 45% of organizations have BYOD (Bring-Your-Own-Device) policies in place. A slight majority (51%) of employees were found to be using their personal mobile device as their primary mobile work device. Fifty-eight percent receive the same or more in the way of reimbursement. Assuaging concerns regarding technical challenges, 69% said they hadn't experienced any technical or support-related challenges in implementing a BYOD policy.
Still a niche market, near-field communications (NFC) "is showing strong use amongst a small group of consumers," according to Deloitte's report. Ten percent of survey respondents said their phone has NFC capability. That's 103% higher than in 2012. One-third of those with NFC-equipped mobile devices used NFC in the previous month, "indicating a small but loyal following."
Deloitte found tablets to be the fastest growing category of mobile device, with tablet ownership rising 48% since last year. Growth was highest among those ages 25-34 (74%), with those 55+ ranking second-highest (45% year-over-year growth).
"Tablets and smartphones are also replacing many other types of single-purpose devices including e-readers, music players, game players and video players; and there is strong growth in dual ownership of smartphones and tablets as well as of laptops and tablets," Deloitte analysts highlighted.
In addition. tablet use is leading to greater smartphone use but less laptop use, according to the report – 34% of tablet owners said they're using their laptop less often. Tablets are increasingly being used as stationary, or fixed, as opposed to "truly mobile devices," researchers said.
"The most popular activities for tablets are those when consumers are typically fixed for longer periods of time – watching movies, streaming content, reading books, etc. – while smartphones are most popular for more dynamic activities, such as navigation, email and photos," Deloitte highlights.
"Growth in tablets, particularly among select age groups, is still very strong. It's also important to note that tablets contribute to the strength of the larger mobile ecosystem, as our survey finds that they increase smartphone usage," Wigginton elaborated.
"Interestingly, although the use of tablets is increasing overall, we are not seeing this trend in the workplace. The majority of consumers are still not using their tablets for work-related activities. However, with the surprisingly strong data we saw around uptake of BYOD in the workplace, this trend may change."