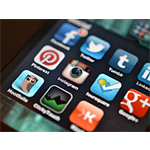 Americans consumed more than twice the amount of data in 2015 than they did the year before and three times that of 2013, according to survey data from CTIA on U.S. wireless trends. Network data consumption totaled 9.6 trillion megabytes (MB) last year, up from 3.2 trillion in 2013.
Smartphone subscribership and usage were the primary growth drivers. CTIA counted more than 228 million smartphones in the US for its 2015 survey, up nearly 10% from 2014. Seventy percent of the U.S. population now owns a smartphone.
Tablet penetration also rose. There were more than 41 million tablets connected to wireless networks in the U.S. last year, 16% more than in 2014.
U.S. Wireless Trends
Americans spent more than 2.8 trillion minutes talking on mobile phones last year. That's more than 17% higher than in 2014. In addition, Americans used their mobile phones to exchange more than 2.1 trillion text messages, videos and photo – more than 4 million every minute.
U.S. wireless carriers invested nearly $32 billion in 2015 in a bid to keep up with rapid growth in network traffic, including adding nearly 10,000 new cell sites. They've invested more than $177 billion since 2010 in efforts to improve network coverage and capacity.
"Americans today have mobile-first lives. In 2014, we had a record amount of data on our 4G networks. Remarkably, the amount of traffic on mobile networks more than doubled last year and shows no signs of slowing down,¨CTIA President and CEO Meredith Attwell Baker was quoted.
¨I'm proud our industry invested more than $30 billion to keep up with our demand and support millions of jobs. Our record growth also highlights the continued need for a national focus on making more spectrum available to the mobile industry."