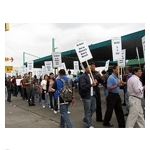 AT&T contracts with AT&T Midwest and AT&T Legacy workers expired over the weekend and the Communications Workers of America union, which represents the workers, said workers are prepared for an AT&T strike if progress at the bargaining table is not made. The contracts cover 14,000 workers, according to CWA or about five percent of AT&T's work force, according to AT&T.
AT&T Midwest is the former Ameritech region – Ohio, Michigan, Illinois, Indiana and Wisconsin. AT&T Legacy includes workers nationwide.
AT&T Strike?
In a press release, CWA Vice President of Telecommunications & Technologies Lisa Bolton said AT&T is demanding "insulting" concessions from workers.
When AT&T was lobbying for corporate tax reform last year, the company pledged to increase its investment in the U.S. by $1 billion and AT&T CEO and Chairman Randall Stephenson said proposed reforms would "stimulate job creations."
Those tax reforms were adopted and in a statement about possible AT&T strike plans, CWA District 4 Vice President Linda L. Hinton referenced AT&T's commitments.
"Our members remember the big promises that AT&T CEO Randall Stephenson made if the corporate tax cut bill passed and now we're holding AT&T to those promises," said Hinton.
Hinton cautioned AT&T not to underestimate CWA members. "They are ready to do whatever it takes to get a fair contract," she said, "including going on strike if we aren't able to make progress at the bargaining table."
In response to an email from Telecompetitor, AT&T said: "As in all our contract negotiations, we're committed to working together with the union to reach fair agreements that will allow us to continue to provide solid union-represented careers with excellent wages and benefits. We're continuing to bargain with the union and we're confident that an agreement will be reached."
AT&T also noted that it negotiated five contracts with CWA in 2017 and the first part of 2018. Those contracts cover nearly 70,000 union-represented employees and each contract includes annual wage increases and "solid" benefits, AT&T said.
Image courtesy of flickr user graham.