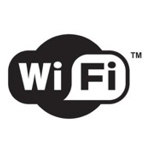 Selling cloud-based Wi-Fi can be an excellent opportunity, especially now that cloud platforms can support a range of value-added capabilities.
I got a demo of some of these capabilities at Adtran Connect, an event for press and analysts at telecom vendor Adtran's Huntsville, Alabama headquarters this week.
As at any event of this sort, one of my top priorities walking into the meeting room on Day 1 was to get Wi-Fi connectivity. Adtran had provided a log-in and password – and although the log-in process was not exactly what I'm used to, it wasn't so wildly different that it prevented me from completing the process.
A data entry screen asked if I wanted to log in through LinkedIn, Twitter or one of several other social media interfaces or whether I would prefer to complete an online form. After I picked one of those options, the interface asked if it would be OK to use some basic information from my profile.
I had forgotten all about the Wi-Fi log-in process until a couple of hours into the meeting, when Todd Lattanzi, director of Adtran's cloud services portfolio, displayed a chart of audience demographics, which the company had gleaned through the Wi-Fi log-in process that attendees had completed. The audience was comprised primarily of people between the ages of 35 and 54, the majority of whom were male – a pretty typical audience for a telecom conference. Adtran had just given us a real-world demonstration of one of the capabilities of its managed Wi-Fi offering, dubbed ProCloud.
Alex Dizon, general manager of value-added reseller Valley Business Solutions, told us later that his company sells the ProCloud service to a lot of customers, including a restaurant that uses the analytics capability to push out coupons to customers based on demographics. Like Adtran did at its conference, the restaurant collects customer data through the log-in process for its guest Wi-Fi offering.
"People want free Wi-Fi, so they'll give information," observed Dizon
Cloud Wi-Fi Opportunities
Like other cloud services, cloud Wi-Fi can reduce capex. Although customers still need access points, they may avoid the expense of access point controllers. Cloud Wi-Fi services also can reduce the time a company must spend managing its Wi-Fi network by, for example, simplifying moves, adds and changes.
Windstream initially was skeptical about the demand for cloud Wi-Fi because so many customers already had Wi-Fi networks, noted Darryl Branson, SAE for Windstream's integrated solutions group. But what Branson found was that some of customers' existing Wi-Fi equipment "didn't work well" – opening up an opportunity for a customer conversion.
Adtran also was surprised by some of the results it has seen from its cloud Wi-Fi offering, noted Chris Thompson, director of customer devices for the company. Thompson has seen strong demand from enterprises wanting to outsource management of their guest Wi-Fi networks — a result Adtran hadn't expected. With ProCloud, authentication is done in the cloud – and some enterprises like shifting that responsibility, he explained.
E-Rate
Collecting customer analytics is just one example of the value-added capabilities that cloud Wi-Fi can provide. Some cloud Wi-Fi offerings, including Adtran's ProCloud.edu service, offer classroom management software that supports content filtering and enables teachers to push certain content to individual students, thereby helping to support a one-to-one learning environment.
"It's not just an access medium but a technology they can really use to learn," commented Lattanzi.
ProCloud.edu also was designed to enable schools using it to use Federal Communications Commission E-rate funding to pay for it.
"Maintenance services are not e-rateable so the next-business-day or four-hours element is pulled out," said Lattanzi, in reference to the maintenance and repair capabilities that are included with the non-edu version of the offering. "And we added the ability to add content filtering and classroom management services," Lattanzi noted.
The Madison County, Alabama school district recently began using ProCloud.edu, thanks to recent changes in the E-rate program. The county includes Huntsville as well as surrounding rural areas — and as Tommy Whitten, district technology coordinator for Madison County schools explained "before, our schools were all considered urban and had a lower discount rate." Now, the more rural – and less wealthy – areas have enabled the district to qualify for a 70/30 split, with the E-rate program picking up the larger portion of costs.
Whitten likes the service because it helps free up his small IT staff for other responsibilities.
Madison County's cloud Wi-Fi service also was made possible by another important E-rate change that will shift E-rate funds from voice to Wi-Fi and other data services through a multi-year phase-in. But the change may not be having the same impact on some other school districts — at least not yet.
Dizon said Valley Business Solutions has seen strong interest from school districts in cloud Wi-Fi since the change was made. But he noted that some school districts struggle with how to pay for it because traditionally they have used E-rate funding to pay for voice services – and if they use that money to pay for Wi-Fi, they can't cover the costs of their voice services.
Whitten said that wasn't a problem in Madison County because the school district has switched to VoIP – a transition Dizon said other school districts also will need to make. Dizon predicts a boom in school Wi-Fi but not for a few years.