CenturyLink CTO Aamir Hussain offered a vision of the ongoing CenturyLink network transformation at ADTRAN's Broadband Solutions Summit this morning in Huntsville, Alabama. Hussain offered a common theme present in today's broadband carrier circles – the need for carriers like CenturyLink to transform not only their network and technology, but their overall culture.
Hussain offered a variety of data points driving the need for this network transformation, one of which included a prediction that the global network will generate 50 trillion GBs of data annually by 2020. It's impossible for carriers like CenturyLink to build a network in the traditional sense to absorb their share of that network activity. It would be too expensive to build and maintain, noted Hussain.
CenturyLink Network Transformation Factors
In addition to that massive scalability challenge, customer behavior also drives this transformation. Hussain suggested telecom carriers need to work towards transforming their business, processes, and culture in an environment where customers are used to the Amazon buying experience and the Netflix viewing experience.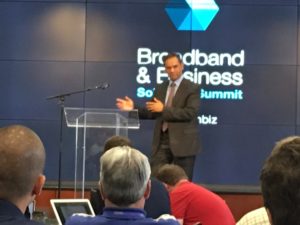 Making matters more challenging, Hussain highlighted that profit margin realities in this new networked world are very different. Legacy connectivity products generate 2.5x the margin of newer strategic business services, he said. Legacy T1 circuits were more profitable than emerging SD-WAN services, for example. This means carriers must be able to rapidly create new services and deploy them at much higher scale to maintain profitability, hence the need for network transformation.
In CenturyLink's case, virtualization and software control are key. Hussain provided a new networked security solution for large businesses as an example of this transformation process. The networked security service is virtualized and completely cloud based. It's available in multiple countries and requires very little human intervention for service delivery.
These types of cloud based services will help CenturyLink execute on their upcoming merger with Level 3, Hussain noted. The combined CenturyLink/Level 3 will generate 75% of their revenue from enterprise/wholesale services, up from CenturyLink's current 60%, he outlined.
Ultimately, all network transformation activity should put the customer perspective first and drive simplicity, Hussain advised.
CenturyLink Broadband Goals
On the consumer broadband side, Hussain says CentyryLink broadband targets in its top 20 markets include getting 40 Mbps speed to 90% of subscribers, 100 Mbps to 75%, and gigabit service to 25% by 2020.
"The definition of broadband is different, depending on where you live," said Hussain. "If you're getting 768K currently in a rural market, then 10 Mbps is broadband."
Hussain noted that rural markets are a challenge for CenturyLink, but are a part of the company's heritage. The company intends to use CAF II money to continue to build out rural markets, but the economics are tough, said Hussain.
To reach their broadband targets Hussain said costs for homes passed in urban markets could range from $50 to $150. "In rural, it could be $3K," he said.