The CTIA 2022 Annual Wireless Industry Survey found that the US wireless industry made a record investment of almost $35 billion last year in efforts to expand, improve and operate its networks, driven by 5G rollouts.
The organization says that 5G now is available to more than 315 million Americans, one-third of adults have a 5G device and the technology is the fastest growing home broadband sector.
Wireless costs have dropped for the tenth year in a row. In all, prices have dropped 43% and speeds are 85 times faster, according to CTIA.
"Wireless is America's most competitive industry, and that competition continues to spur record levels of investment to build the world's leading 5G networks," Meredith Attwell Baker, the president and CEO of CTIA, said in a press release. "Wireless competition is also continuing to benefit consumers—pushing wireless prices down and bringing real competition to cable."
Other results from the report:
Since 5G's launch in 2018, wireless providers have invested almost $121 billion in their networks. All time investment by the industry stands at $635 billion.
In 2021, mobile wireless data traffic rose to 53.4 trillion megabytes. The 11.2 trillion megabyte increase over 2020 by itself is 1.5 trillion megabytes more than consumers used during 2015.
The nationwide rollout of 5G took half as long as the rollout of 4G. There are nearly 70,000 active cell sites since the FCC and state legislators modernized key siting regulations.
In 2021, American consumers exchanged 2 trillion messages. That's more than 63,644 per second. The CTIA said 2.4 trillion calling minutes were used in 2021.
Connected 5G devices grew 513% this year to 85 million.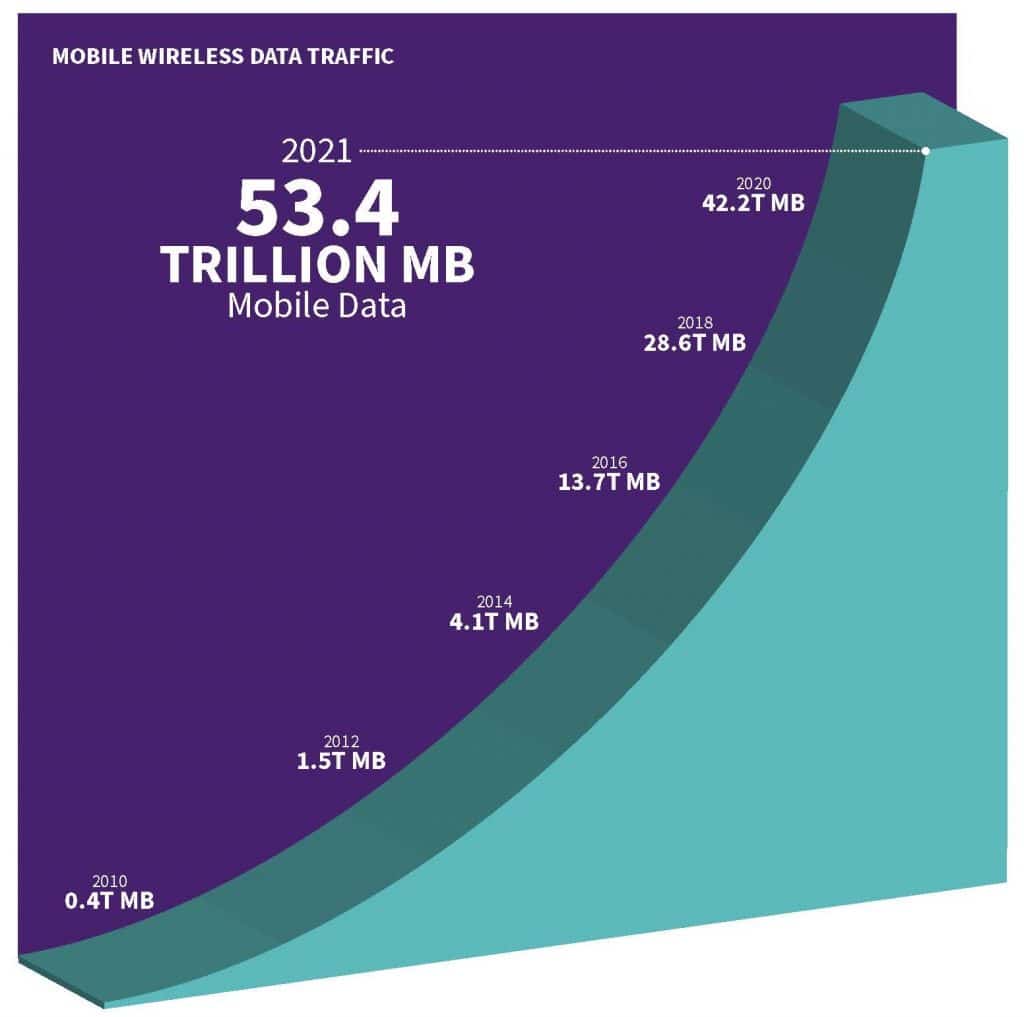 The CTIA wireless investment report follows a similarly bullish report from 5G Americas earlier this year that said that worldwide 5G adoption had reached what it called the "rapid acceleration phase."
The organization cited Omdia's projections that 1.3 billion connections would exist by the end of this year. The firm said that 303 million 5G connections were added worldwide during 2021, a 139% increase. The total then stood at 521 million at the end of 2021.