CTIA released their latest research on U.S. mobile usage trends for 2017, and some of the numbers are staggering. Americans love their smartphones, and even though mobile data usage equates to 15.7 trillion MBs of data, they also still like to talk on their phones, with 2.2 trillion voice minutes used during 2017.
There are more than 400 million mobile devices in service in the U.S., according to CTIA. That equates to 1.2 devices for every person in the country. Increasingly, those devices are data-only, including cars, smartwatches and other IoT devices. CTIA says there were 126.4 million data-only devices in use at the end of 2017, laying the foundation for a 5G interconnected IoT world, according to the wireless trade group.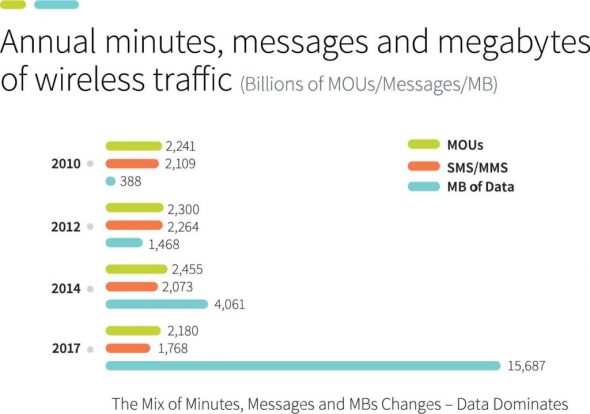 U.S. Mobile Usage
"America's wireless industry continues to grow and set new records for network traffic, wireless connections and network infrastructure deployment," said Meredith Attwell Baker, President and CEO of CTIA in a prepared statement.  "This year's report shows that wireless is on the cusp of a transformation to tomorrow's 5G networks and the Internet of Things, underscoring the need for continued efforts to modernize infrastructure rules and create a spectrum pipeline that ensures continued U.S. wireless leadership in the global race to 5G."
There were 273 million active smartphones in use at the end of 2017, a 5.5x increase since 2009. Those smartphones interacted with 323.4K cell sites across the country. Cell sites have grown 52% over the last decade. The move to 5G will require 800K small cells, the association predicts.
The wireless industry employs over 207K workers and wireless service revenues for 2017 were just above $179 million. CTIA estimates that monthly ARPU for wireless customers hovers around $38.66. U.S. wireless carriers collectively spent $25.6 billion in CAPEX during 2017, and the 4G buildout, which began in roughly 2010 has exceeded $226 billion, CTIA reports.