Mobile data usage is at least 96 times higher today than it was just 10 years ago, according to a new report about U.S. wireless industry growth from industry association CTIA. Annual mobile data consumption jumped from 388 billion megabytes (MB) in 2010 to 37.06 trillion MB in 2019, according to the latest CTIA Annual Survey, released today.
This year, the average smartphone user consumed 9.2 GB per month, up from 6.6 GB per month in 2019.
U.S. wireless industry growth is particularly impressive when compared with that of other countries, according to CTIA. The researchers note, for example, that capital investment in U.S. wireless networks was $29.1 billion in 2019, or $89 per capita. In comparison, China invests $21.85 per capita, according to CTIA.
U.S. cumulative capital investment in wireless networks now stands at over $571 billion – almost double the $285 billion that had been invested as of 2009.
And although wireless carriers are still in the process of deploying 5G, 60% of the U.S. population is already covered by 5G, CTIA said.
U.S. Wireless Industry Growth
Beyond mobile data usage trends, other impressive U.S. wireless industry growth metrics from CTIA:
U.S. wireless subscriptions stand at 442.6 million, up more than 20 million from the previous year in a market some see as having reached saturation. The number of wireless subscriptions exceeds the U.S. population, indicating that Americans have an average of 1.3 devices per person.
Nearly 175 million data-only devices, such as connected cars and smartwatches, were connected to U.S. wireless networks as of last year.
Over 2 trillion text messages were exchanged in the U.S. in 2019 – 52 million more than in the previous year.
Even voice minutes are up, reaching 3.1 trillion over the past year, a 30% increase over the previous year.
The U.S. now has more than 395,000 cellsites, up from 253,086 in 2010 and 127,540 in 2001.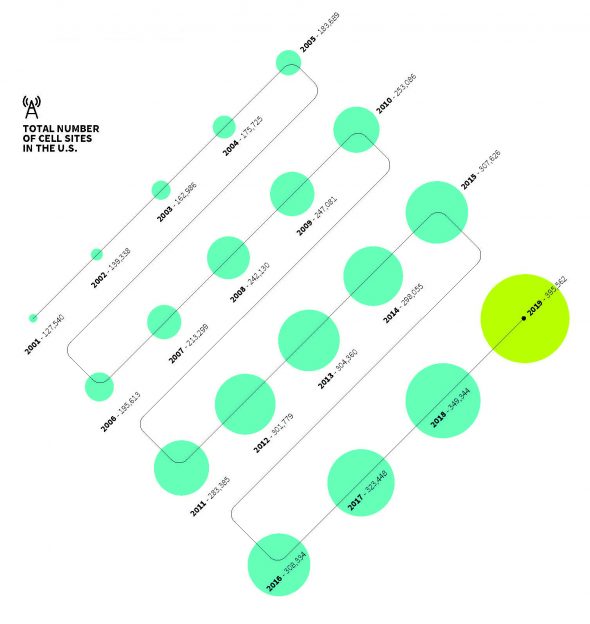 Whoever made the graphs for the 2020 CTIA Annual Survey showed considerable creativity, depicting data in new ways that underscore the trends illustrated. While the above cellsite graphic is quite compelling, the one illustrating growth in mobile data consumption is even more impressive.