5G networks will provide major gains in spectral efficiency, notes CTIA – The Wireless Association in a new report. The technology will provide service at peak speeds exceeding 30 bits per second (bps) per Hertz (Hz), which is more than double the 15 bps/Hz provided by LTE-Advanced technology, CTIA said.
5G Spectral Efficiency
Several specific aspects of 5G technology contribute to its spectral efficiency, CTIA notes in the report, titled "Smarter and More Efficient: How America's Wireless Industry Maximizes its Spectrum". These factors include:
Larger spectrum blocks (100 MHz or wider) that allow for wide channelization, thereby boosting speeds exponentially

Massive MIMO and beamforming

Dynamic spectrum sharing, which enables 4G and 5G services to dynamically share spectrum
Increasing spectral efficiency has always been an important goal for the wireless industry, but it has taken on increased importance as mobile data usage has exploded and continues on a steep upward curve. Even as the U.S. government seeks to make more spectrum available for mobile use, the wireless industry continues to pursue a range of strategies to make the most of its spectrum holdings, which now average 719 MHz nationwide, according to CTIA.
Deploying 5G is just one strategy for increasing spectral efficiency. CTIA points to several others that operators also are pursuing, including:
Converting existing spectrum holdings from earlier-generation technology to more current technologies, a process known as refarming

Cell splitting and antenna sectorization

Deploying overlay networks based on LTE-M and NB-IoT, which are optimized for lower-bandwidth Internet of Things applications

Enhancing LTE networks using 4G MIMO, LTE-Advanced and LTE Licensed Assisted Access

Using VoLTE for voice traffic
Continued efforts such as these have yielded impressive spectral efficiency gains. According to CTIA, U.S. wireless providers have increased their spectral efficiency by a factor of 42 since 2010. The report authors calculated these gains by dividing the amount of wireless data handled by wireless providers by the amount of licensed spectrum to which the providers have had access.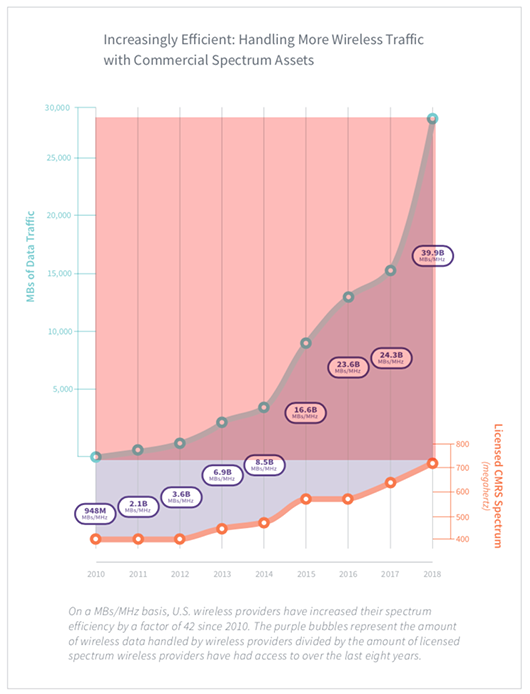 The CTIA report is well written and, although its focus is spectral efficiency, it also serves as an easy-to-read and understand primer on current cellular technology, providing concise definitions of terms such as cell splitting and sectorization.