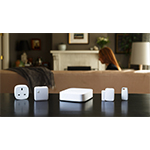 The market for high-tech consumer products will reach new heights this year, driven by accelerating adoption of connected IoT devices in homes, businesses and vehicles, as well as other emerging tech, such as digital assistants, augmented/virtual reality (AR/VR) devices, 4K UHD TVs, drones and wearables, according to the latest semi-annual U. S. consumer technology revenue forecast from the Consumer Technology Association (CTA).
It will be mixed bag when it comes to growth for well-established consumer tech product categories – smartphones, tablets and PCs – but they are also evolving quickly and will account for nearly half (48%) of CTA's initial 2017 market forecast.
Overall, 2017 wholesale and retail consumer tech revenues will total $228 billion and $292 billion worldwide, respectively, 1.5 percent above last year's level, CTA predicts.
"Our forecast reinforces our belief that connectivity is going to be one of the driving trends of our time," CTA president and CEO Gary Shapiro highlighted. "More and more consumers are discovering the remarkable benefits connected products deliver, providing anytime/anywhere access to information, entertainment and each other."
U.S. Consumer Technology Revenue Forecast
CTA assesses and makes forecasts for more than 300 consumer tech products in its semi-annual market research reports. The global industry association expects that sales of connected devices will grow 5 percent year-over-year (YoY), rising to reach a record-high 600 million units shipped this year.
"Consumers recognize that connected innovations are changing our lives for the better – offering us more control and personalization while helping us lead safer, healthier and happier lives," Shapiro added.
"Continued revenue growth in the U.S. consumer technology sector is critical to overall U.S. economic growth," he noted. "Our sector supports more than 15 million jobs across the nation, directly, indirectly and induced, and accounts for more than 10 percent of total U.S. GDP, per a recent CTA economic study."
Connected smart home products have emerged as the most popular way for consumers to take advantage of IoT technology. According to CTA. sales of smart thermostats, smart smoke and carbon monoxide (CO) detectors, IP/Wi-Fi cameras and smart locks, doorbells and switches, dimmers, outlets and the like will reach 29 million units in 2017, up a sharp 63 percent (YoY). Revenue will total $3.5 billion, a rise of 57 percent YoY.
Digital assistant devices are another emerging consumer tech category CTA expects to fly high this year. Unit sales for voice-controlled and standalone digital assistants with cloud operating systems, such as Amazon's Echo and Google Home, will reach 4.5 million units with revenue totaling $608 million for the year, up 52 and 36 percent, respectively, CTA says.
CTA also expects sales of 4K UHD TV to surge higher. The transition to the next generation of digital TV monitors is advancing faster than the transition to HDTV, CTA notes. For 2017, CTA predicts 4K UHD TV sales will total 15.6 million units, up 51 percent YoY. and yield $14.6 billion in revenues, a YoY rise of 38 percent.
CTA singles out AR/VR as a fourth consumer tech growth pacesetter. Annual VR headset unit sales will reach 2.5 million and revenues of $660 million, up 79 and 43 percent YoY, respectively.
CTA adds drones and wearables to its list of fast growing emerging consumer tech product types. Revenues from drones will top $1 billion for the first time in 2017, up 46 percent, as unit sales rise 40 percent to exceed 3.4 million units.
Sales of health and fitness trackers will continue to set the pace among wearable consumer tech products. 2017 sales will total 48 million units, a YoY rise of 14 percent, generating revenues of $5.5 billion, up 3 percent YoY, according to CTA.
A Year of Transition
Incorporation of connected devices in autos will be another leader in terms of consumer tech market growth, CTA says. Incorporation of entertainment, information, navigation and other driver-assist IoT tech in autos will add nearly $17 billion to industry sales this year, researchers said.
"2016 was an important year of transition – with potentially game changing products including VR headsets and digital assistant devices gaining steam within mass consumer markets. I expect 2017 to be a year where many of these emerging tech categories find their footing and really take off," commented Shawn DuBravac, Ph.D., chief economist, CTA.
"We've had more progress in voice-activated digital assistants in the last 30 months than in the first 30 years. Word recognition accuracy has improved from nearly zero percent in the 1990s to 75 percent in 2013 to about 95 percent today – enabling these devices to enjoy immense consumer adoption.
"While still in a period of massive experimentation, we're increasingly moving away from what is technologically possible and focusing on what is technologically meaningful."