Social TV use is the favorite second screen activity for millennials, with viewing other content during first screen commercials running a close second.
Nearly 9 in 10 young adult Millennials (88%) are using ¨second screens¨ to augment their first screen experience, the highest percentage of any age demographic, according to new market research from the Consumer Technology Association (CTA).
CTA explores mobile and wireless device and content preferences and consumption trends of U.S. online adults in its two-part 2015 Video Consumption Trends report. Half of online Americans use second screens – smartphone, tablet – to supplement first-screen content, CTA found.
Fifty percent are using their mobile devices to search for and access information about the first-screen video content they are watching. Nearly as many (48%) view second-screen content while commercials are running on first screens. More than 4 in 10 (43%) use their mobile devices to engage with social media, either related or unrelated to the first-screen content they're watching.
Second Screen for Social TV Use
Millennials (18-34) are much more likely to exhibit second-screen behaviors than adults 35 and older, according to CTA. Seven in 10 (71%) count social TV use as important while watching video content – 40 percentage points higher than adults 35 and up. Seven in 10 watch content on another device during commercials – 32% higher than older adults.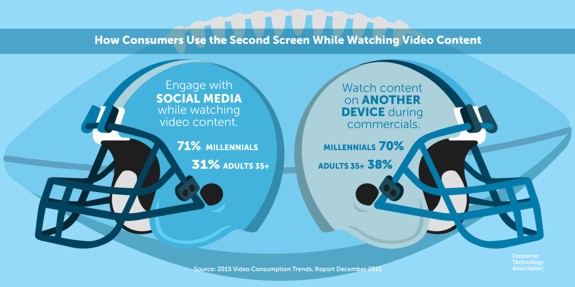 "More than ever before, consumers – especially Millennials – are using non-traditional devices such as computers, tablets and smartphones for content viewing," commented CTA Senior Director of Market Research Steve Koenig. "As technology continues to improve, consumer behaviors and expectations also evolve – but televisions still reign as the preferred viewing device in American households today."
Non-traditional screens — including computer, tablet and smartphone screens — are actually the preferred choice of American online adults for watching streaming content. They were chosen by 57% of respondents, 1.3 points higher than the number for TVs, CTA found. Millennials are more likely to watch video content on non-traditional devices (42%) compared to adults 35 and older (22%).
Pay-TV and Ultra HD
Screen size (80%) and picture quality (62%) were far and away the biggest reasons American adults bought TVs, according to CTA. Cost came a distant third (29%).
CTA also found that 1 in 10 online American adults (11%) canceled their pay-TV subscription in the past year. Lower cost alternatives (27%) were among the most commonly cited reasons for doing so. In addition, 32% said they didn't watch TV programming enough to justify the cost of a pay-TV subscription.
More Americans are viewing content via paid streaming services: 46% in 2015, up 7% from 2014. Pay-TV services – cable, telco, and satellite – remain the most common means of access, however (61%).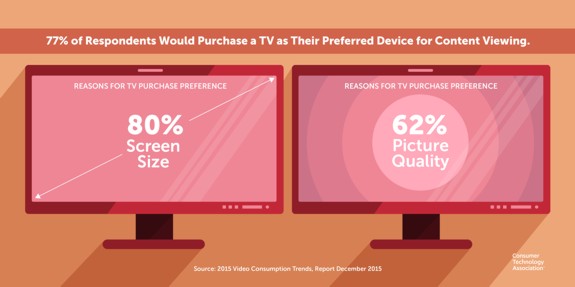 As a result, CTA projects 2016 TV set and display sales will total around $19 billion, on par with 2015's total. Volume will drop 1% and fall just below 40 million units, CTA expects.
That said, CTA expects 2016 will be a ¨phenomenal year¨ for 4K Ultra High-Definition TV sales. Shipments will reach 13 million units, CTA forecasts, up 83%, while revenue is expected to exceed $10 billion.
Image courtesy of flickr user Kirill Kniazev.