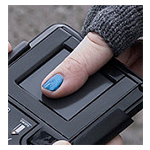 Concerns regarding intrusions of privacy aside, some 6 in 10 U.S. adults who have used biometric technology (62%) are comfortable with it, according to a new biometric user survey from CTA (Consumer Technology Association).
Nearly 6 in 10 (58%) said they support the use of biometrics for altruistic purposes in medical research. Two-thirds (67%) said the same regarding use of biometrics in assistive technology, according to CTA's ¨Biometric Technologies: Understanding Consumer Sentiments.¨
Biometric User Survey
"Biometric sensors are changing the world – whether it's helping people with Alzheimer's and people with low vision identify their loved ones through voice and facial recognition, or providing stronger, more individualized personal security," CTO president and CEO Gary Shapiro stated for a press release.
Other key takeaways include:
Consumer awareness and adoption: Although fewer than half of U.S. adults have adopted or used any biometric technology, digital fingerprinting (29 percent) and voice recognition (13 percent) are the most widely used technologies. Consumers are most familiar with biometrics commonly portrayed in the media – such as DNA analysis – and biometrics they have seen in the market, such as fingerprint readers on smartphones.
Consumer comfort levels: More than half of U.S. adults are either very comfortable or comfortable with the use of biometrics in locations commonly believed to already have a high degree of security screening – airports and national borders – and places perceived to lack safety such as high crime areas and public schools. Also, almost half of consumers are comfortable using biometric technologies at home and/or the workplace.
Consumer trust levels: Organizations that consumers view as traditionally handling sensitive information or those that serve important life functions such as hospitals and banks have the highest trust level (64 percent).
Biometrics tech developers and vendors need to focus on creating products and services that meet specific consumer needs and expectations, Shapiro continued.
Speaking on behalf of CTA members, Shapiro said the industry association is committed to assuring consumer and data privacy even as the industry incorporates innovations that improve the accessibility and convenience of biometrics. He added that consumer perceptions of biometrics are improving as awareness and understanding grows.
"We are seeing a shift in consumer perception of biometrics that demonstrates an understanding of the benefits – such as streamlined security and personalized services – this technology offers. And as consumers become more familiar with the benefits of biometrics tech, that favorable perception will only grow – the industry has an enormous opportunity here."
Image courtesy of flickr user NEC.