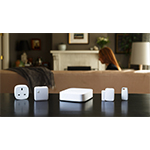 Newly released from the Consumer Technology Association, the CTA Connected Home Security Checklist Tool aims to help smart home technology installers ensure the smart home tech they install for customers complies with industry best practices. The tool includes details regarding security protocols and other best practices that smart home tech installers should be sure to include in order to protect their customers and smart home devices from attempted incursions by malware or malicious hackers.
Intended as a quick reference guide to smart home cybersecurity best practices, the topics included in CTA's online smart home tech security checklist run the gamut from passwords, networks, modems and routers to VPNs and Z-Wave/Zigbee, the industry association highlights.
Cybersecurity Reference Guide
In line with meeting the needs of its targeted user base of smart home tech installers, the online smart home cybersecurity reference guide has been designed with both mobile device and personal computer use top of mind.
"Good cybersecurity practices are critical at the installer level – one of the first lines of defense against security breaches," explained Melissa Andresko, chair of CTA's TechHome Division and communications director at Lutron Electronics, in a press release.
"To better safeguard consumers' privacy and sensitive information, CTA created the first-ever tool designed by installers, for installers, that outlines existing best practices, standards, and methods for today's smart home security challenges."
CTA goes on to highlight the cybersecurity checklist tool's main benefits:
Outlining existing best solutions to current and forthcoming smart home security challenges;
Providing customers with peace of mind through enhanced protection against smart home/connected home related threats;
Comprehensively cataloging the installed connected systems in a home;
Reducing liability to professional installers by providing an industry approved guide; and
Adding value to the services of CTA member professional installers, setting them apart in the marketplace by using documented recommended practices or processes for selecting products, systems, installation, and maintenance.
Internet access is effectively ubiquitous in the U.S., according to CTA, which forecasts that some 29 million smart home devices will be sold this year – a 63 percent year-to-year increase. The growth surge will create additional demand for smart home tech installation professionals that are capable of assuring customer, device and network cybersecurity, as well as ensuring the interoperability of the smart home tech they install, the industry organization emphasizes.
CTA's Tech Home Division Board developed The Connected Home Security Checklist Tool, available only to CTA members. "As more consumers understand how consumer technology is changing our lives for the better, and our homes become increasingly more connected and complex, our industry will see a wave of business," commented division board member Dan Fullmer, who participated in the development of the best practices checklist.
"We are enthusiastic and ready for this remarkable opportunity. But we recognize that trust is at the heart of the smart home business, and to succeed we need to equip experienced installers with the latest best practices to grow their businesses and provide consumers with the peace of mind they want."