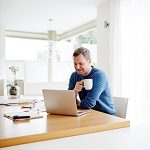 Cox is the latest service provider to jump into the work from home (WFH) category that has grown in the shadow of the COVID-19 pandemic.
Cox Business' Work-at-Home services feature enterprise-grade separate connections to employees' homes. The platform includes enterprise-level security from McAfee and MalBlock, business-grade service level agreements (SLAs), fast support and business voice identity for securely working at home or on the road, the company said.
The data connectivity element is professionally installed while voice functionality is self-installed by the subscriber. A la carte conferencing and collaboration tools include Microsoft 365 from Cox Business's RapidScale and Cox Business Complete for remote troubleshooting and care of PC, laptop and app services. Billing is centralized.
"Wi-Fi, congestion and security issues have been a concern of many companies as more employees are having to work from home," Cox Business's Executive Vice President Steve Rowley said in a press release about Cox Work-at-Home service. "Cox Business Work-at-Home solutions separate work and home connectivity, giving employees enterprise-grade connectivity and Wi-Fi to promote more productive employees."
There have been at least two similar announcements since the pandemic began. In late May, AT&T Business introduced Home Office Connectivity. The service uses wireline and wireless infrastructure within AT&T's footprint. It provides AT&T High Speed Internet for Enterprise and features including AT&T Internet Backup for failover, the Global Security Gateway and Static IP addressing.
Comcast Business at Home, which was announced on June 1, is built on four pillars, the company said: Reliability, flexibility, mobility and security. It too relies on a discreet connection to subscribers' homes.
There seem to be a couple of things at play in the Cox Work-at-Home and similar announcements. One, of course, is the desire to bring a product to market that can support subscribers – and perhaps those that don't yet subscribe – during the crisis. Beyond that, however, is the realization that many users will actually experience the benefits of WFH and employers will understand that it doesn't necessarily lead to loss of productivity – and in many cases it leads to increases.
Meanwhile, the service providers recognize that those with robust, secure and feature-laden platforms will be well positioned once the pandemic ends. Put another way: The new normal after the pandemic is almost certainly not going to be the same as normal before it started. Smart companies will be positioned to provide services in whatever landscape emerges.