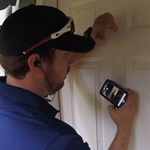 Cox Communications is offering "On-site with Virtual Assist" as a way to maintain customer service without endangering subscribers or technicians during the COVID-19 pandemic. Initially launched in California and Sun Valley, Idaho, Cox On-Site with Virtual Assist is now available for residential and business customers in all Cox markets.
Cox is partnering with Help Lightning on the initiative. Subscribers access the platform through the Cox website or Connect app. A tech will contact them and ask if they prefer a call, text and/or video chat to handle their issue.
If they prefer video and have a smartphone with a rear-facing camera, the tech provides them with a text message containing a link. That link enables the tech to "have eyes" in the customer premise. The tech can use augmented reality to lead subscribers through common processes such as in-home setups and tightening fittings on the cable boxes.
Even in normal times, such an approach provides value in saving tech time and reducing fleet costs. Cox On-site with Virtual Assist "has been a priority of ours for quite some time, but the rapid escalation of COVID-19 accelerated our push to make this available to our customers now," Cox Executive Vice President and Chief Operating Officer Len Barlik said in a press release. "Knowing we're focused on helping keep our customers and employees safe, our team readied this offering in just 10 days."
Some technologies will have their profiles raised by the massive disruption caused by the pandemic. Tele-health and tele-education, for instance, are likely to benefit as they move from the periphery to the core of how people receive medical care and are educated.
Industrywide, fleet management may also get a push. Mobile fleets are one of the great expenses for service providers. Using evolving smartphone and AI technology to reduce truck rolls – and eventually fleet size — is a long-term goal.