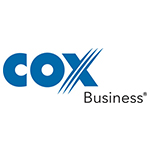 Cox Business announced today that Cox Business Managed WiFi is now available to all customers in the Northeast and parts of the Southeast region. Additionally, Cox Business Managed WiFi will be deployed across the national Cox Communications footprint in the next few months.
Cox Business Managed WiFi
Cox Business Managed WiFi, which started as a trial in 2017, is designed to enhance business productivity while enriching the customer experience. The new service provides customers and employees with a commercial-grade, fast and secure connection to the Internet via WiFi.
The service features speeds up to 1 gigabit-per-second (Gbps) for both private and public WiFi networks and provides the ability to choose guest bandwidth speed. The flexible technologies provide WiFi coverage for entire work areas, up to 36,000 square feet indoors or up to 24,000 square feet indoor and 12,000 square feet outdoor. The range of backhaul options up to 1 Gbps provides capacity for up to 250 guests and employees.
With Cox Business Managed WiFi, businesses can select from three packages to meet their specific needs:
Guest WiFi Package, designed for business customers, guests and vendors. Includes up to 4 guest network IDs with splash page passcode and end-user license agreement access control.
Private WiFi Package, designed for business employees and internal use. Includes up to 4 private network IDs with encrypted and private network ID passcode access control.
Total WiFi Package includes both private and guest networks, each with separate access controls.
"A smart business is a connected business," said Steve Rowley, executive vice president of sales, Cox Business, in a prepared statement. "Employees and customers expect superior connectivity while working, shopping or in some situations waiting. Cox Business Managed WiFi delivers superior network management, with the security and agile functionality that businesses demand."
Network Management and Support
With professional design, installation and certification, Cox Business Managed WiFi is a turnkey solution for business owners. Includes business-grade support and 24/7 WiFi network monitoring. Plus, analytics and reporting help assess peak usage and active or historical sessions to determine demand and the optimal user experience.
The new service also is designed to ensure that business productivity is not compromised by guest activity and prevents guests from negatively impacting another users' experience through a comprehensive bandwidth management platform.
Marketing and Branding Options
Cox Business Managed WiFi allows businesses to extend marketing and awareness campaigns by introducing interstitial splash pages and branding WiFi networks and portals, which provides additional advertising and promotional opportunities.
Security
Cox Business Managed WiFi is designed to provide a secure solution with various options, including network passcodes, splash page login and end user license agreements, basic firewall, power management and rogue access point detection.
Mobility
A mobile workforce can be empowered with Cox Business Managed WiFi by allowing for a secure BYOD policy, by supporting mobile point of sales (POS) systems and by blanketing the business with WiFi connectivity at maximum transmission rates.
Bring Your Own Device (BYOD) users can quickly and safely access wired systems while at work, including printers and servers. BYOD apps are protected from Internet-based attacks while on the business network with a firewall, while content filtering ensures BYOD apps are used for business-related activities while within the business network.
IoT Integration
With support for encrypted, access-controlled and private network IDs that are not visible to guests, employees, contractors or consultants, Cox Business Managed WiFi also helps support the implementation of Internet of Things (IoT) technology solutions by enabling connectivity for devices that lack WPA-AES encryption capability and lack a browser for splash page authentication.