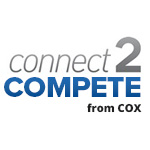 Cox Communications today revealed that customers with its lower cost internet product, Connect2Compete, are now getting a boost in speeds of more than 65%.
Connect2Compete is available to families with school-aged children who are enrolled in low-income assistance programs. Connect2Compete customers  are now seeing download speeds of 25 Mbs, with upload speeds increased to 3 Mbs from the previous 1 Mbs.
Cox has 500,000 Connect2Compete customers, with more than 60% using the service for the first internet connections from their homes. The service includes free installation and a Wi-Fi modem.
Cox has offered a low-income internet program for two decades. In 2017, Cox expanded the program to include free online tools designed to increase digital literacy through the Cox Digital Academy. While internet access is an important first step, digital literacy helps children and families to make the most of their connection, according to company officials.
"We at Cox are passionate about empowering kids with tools and technology to ensure bright futures," said Pat Esser, president of Cox, in a prepared statement. "By increasing the speed of Connect2Compete, we help the kids who need it most be more productive and competitive in the classroom and beyond."
In 2018, Cox released a survey of more than 1,700 Connect2Compete participants that showed parents said Connect2Compete:
Makes life easier with the convenience of having home internet access (97%)
Makes it easier to communicate with teachers as well as the school (95%)
Sets children up for success (94%)
Makes children more interested in their school work (88%)