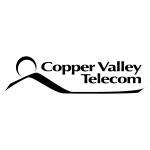 Copper Valley Telecom (CVT) has completed an FTTH project supporting speeds of up 25 Mbps downstream and 3 Mbps upstream in Tatitlek, an off-grid indigenous village in Alaska. CVT says that the network previously had delivered data at 10 Mbps download and 1 Mbps download.
"The fact that we can provide fiber to the home in an indigenous village that is off-the grid, not otherwise connected, is exciting because it meets the FCC requirements for middle mile broadband in the middle of Prince William Sound, Alaska," said Chris Mishmash, CVT Director of Facilities & Wireless Operations, in a press release.
The village is remote and CTV used barges and helicopters to do the job. To reach Tatitlek, an Ethernet signal is sent via microwave from a tower in Valdez and transferred via towers in Shoup Bay and Naked Island before reaching the village. Subscribers in Tatitlek are charged $45 per month for service.
CTV has served Valdez and the Copper River Basin for more than 50 years. In March, the company signed onto the Keep Americans Connected Pledge mounted by the FCC in response to the pandemic.
Copper Valley Telecom isn't the only company making broadband gains in Alaska, even though the state is a big challenge for telecommunications companies because of its distance from the lower 48 states, the remote nature of many of its communities and the often harsh weather.
In August, Alaska Communications won spectrum in the FCC's Citizens Broadband Radio Service (CBRS) band auction. In July, the company said it will provide broadband to more than 16,000 rural residents in a project partially financed by the Connect America Fund II. The company hopes to double the amount of Alaskans receiving services by 2025. The project started in 2017.
In May, MTA Fiber Holdings completed and activated the Alaska Canada Overland Network (AlCan ONE), which the company said was the lone all-terrestrial fiber networking connecting Alaska and the lower 48 states.The previous month, GCI and Ericsson turned up 5G service in Anchorage.