While still the dominant method for broadband access across the world, the decline in copper based broadband connections is accelerating, according to a recent Point Topic report. That's not surprising news, especially here in the U.S. where the two largest incumbent DSL providers, Verizon and AT&T, have been hemorrhaging millions of basic DSL subscribers for the past couple years. The rise in FTTx and HFC broadband connections are coming at copper's expense.
Point Topic reported that copper based broadband connections had declined for the first time in 4Q12, with 415K copper based broadband subscribers lost. They now report an acceleration in that trend, with over 2.77 million copper based broadband connections lost in the first three months of 2013. Despite my reference to AT&T and Verizon in the U.S., Point Topic points to rapid declines for copper based broadband in Asia as playing a major role in this trend.
The U.S. is somewhat unique in the world, given the strong position of cable MSOs with respect to broadband connections. No other region in the world comes close to the percentage that cable holds for broadband, which Point Topic pegs at 50% for the "Americas" region. The rapid growth of 4G LTE services is surely having some impact on copper based broadband as well in the U.S., although this Point Topic report does not delve into that issue.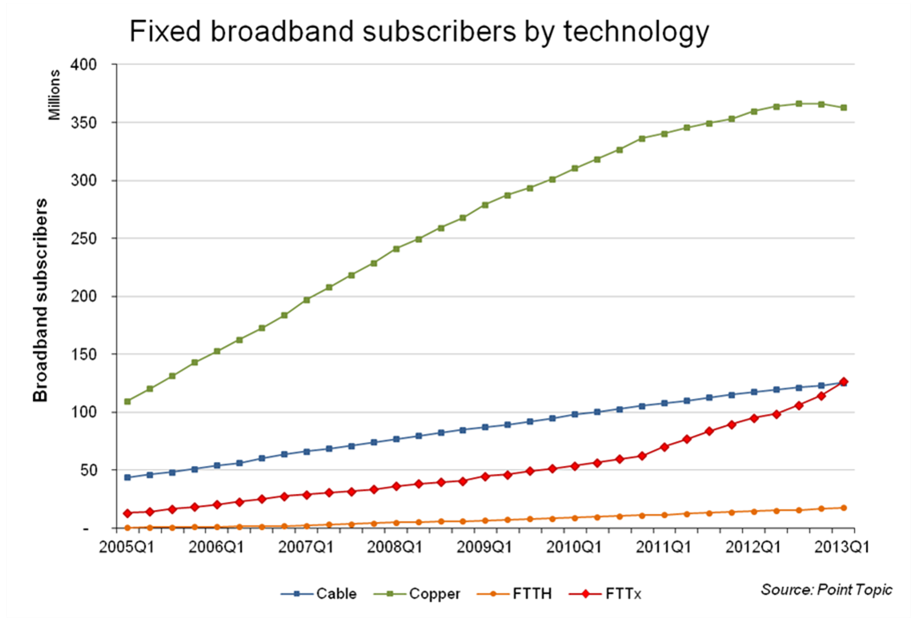 To be clear, copper based broadband services of DSL still hold a commanding global lead for broadband connections, but the days of growth for this broadband workhorse may be over. FTTx based services are the new broadband darling, with impressive growth curves across the globe.
"FTTx services have grown rapidly over the last two years, and at the end of March 2013 subscriber numbers had overtaken cable for the first time," reports Point Topic in a press release.
Is Copper Based Broadband Getting Cheated?
It's important to note that FTTN service, like that used by AT&T's U-verse, are included in these FTTx numbers, and actually make up the majority of the growth. That to me confuses the issue a bit. Most FTTN service is a hybrid combination of fiber connectivity to a node or cabinet, with copper based connections (usually VDSL) to the premise. Why those copper based connections are included as a part of the FTTN growth numbers are a mystery to me. Shouldn't they be included in the copper based broadband counts – they are a copper based broadband connection to the home after all, are they not?