Consumer-reported monthly spending on pay TV declined from $84 to $76 between 2016 and 2018, according to new pay-TV spending research from Parks Associates.
According to Parks Associates, self-reported expenditures on non-pay-TV home video entertainment also have been dropping. After peaking at nearly $40 in 2014, the number was $20 at the end of 2018. Packaged media (DVD and Blu-ray) spending has dropped steadily since 2012, while spending on movie theaters dropped by half between 2014 to 2018.
Yet while the consumer spending in many areas declined, spending on internet video remained steady, staying at $8-9 per month since 2014.
"Traditional pay-TV providers (MVPDs) have faced continued subscriber losses due to increasing consumer choice from OTT services, so they are deploying skinny bundles and vMVPD services to create more choice among viewers," said Elizabeth Parks, president, Parks Associates, in a prepared statement. "For pay-TV service providers, traditional and online, they are exploring new areas in content ownership and development, and to be successful in these efforts, understanding consumer activity and motivation related to adoption and use of their services is critical."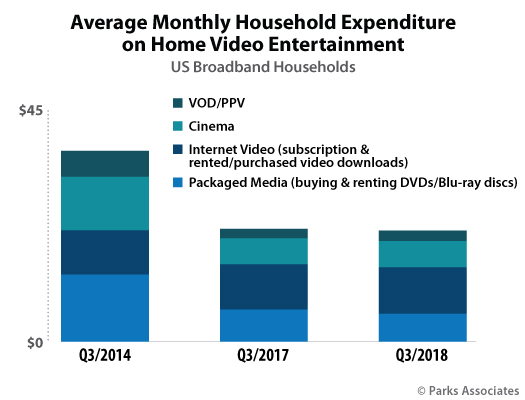 "Subscription online video is the only growth category for consumer-paid video entertainment beyond pay TV. Operators, struggling with declining ARPU for standalone pay-TV services, are anxious to leverage this trend," added Brett Sappington, Parks associates senior research director and principal analyst. "Operators are taking differing approaches. Some, including Comcast and DISH, are offering subscriptions to third-party OTT video services and are integrating them into their discovery interfaces. Partnering gives operators a chance to serve as content aggregator, a familiar position. Others, including AT&T and DISH, are expanding their competitive reach online and have introduced vMVPD services."