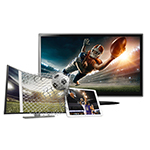 Consolidated is embarking on a new video path with the launch of its CCITV service in its Northern New England markets, beginning in Southern Maine. The new video service, CCiTV, is a cloud-based app delivered TV experience.
Consolidated is leveraging the MobiTV platform for the service, which offers restart/replay TV, voice-activated remote controls, 4K HD compatibility and cloud-based DVR. Consolidated will feature over 200 channels on the service, with packages starting at $60 per month. CCiTV will feature an Android-powered STB, or customers can use apps from Apple iOS or Amazon- and Android supported devices.
This is the first market launch for CCiTV and Consolidated intends to do a phased roll out in Northern New England first, followed by expansion across their footprint.
"Through this [MobiTV] partnership, we are able to deliver an Android-based solution and leverage our experience delivering linear TV to provide customers with a best-of-breed television viewing experience for the first time in our Portland service area," a Consolidated spokesperson tells Telecompetitor. "We plan to expand the product across Northern New England and eventually our expanded service area."
Like other video providers, Consolidated is looking to offer additional features and flexibility to customers using a more app-based approach to TV, with an accompanying goal of trying to lower operating costs. Moving many video functions to the cloud and reducing or eliminating expensive set-top-box requirements are key cost-cutting strategies.
Consolidated has a legacy IPTV service which will continue, but presumably in a cap and grow approach as CCiTV becomes available in additional markets.
"In time, we will expand this low-capital, flexible, easy-to-use TV service across our service area," the Consolidated spokesperson reiterated.
Consolidated hasn't been afraid to be creative with video. In addition to evolving their traditional linear pay-TV service to this new CCiTV approach, the company has also partnered to offer OTT and SVOD options/alternatives to customers. These offers have included DIRECTV Now, fubo TV, Philo, and HBO Now.