Consolidated Communications will leverage DZS technology for planned 10G XGS-PON fiber broadband deployments. Consolidated is on a path to extend its fiber footprint to 70% of its service territory. 
A five-year expansion plan, which already is underway, eventually will pass more than 1.6 million homes and businesses. The locations will gain access to symmetrical, multi-gigabit services topping out at 10 Gbps. These passings include 27,000 locations Consolidated won in the Rural Digital Opportunities Fund (RDOF) program.
The DZS Velocity platform includes the Xcelerate line of 10 gigabit class fiber XGS-PON combo and 100 Gbps aggregation cards, giving Consolidated the flexibility to support XGS-PON, GPON, 10 Gbps and 1 Gbps AE technology from any port, according to DZS.
"Consolidated is recognized as a top-ten broadband access provider in the United States," said DZS CEO Charlie Vogt in a press release announcing the deal. "Bringing symmetrical multi-gigabit services to more than 70% of their footprint will transform the communities they serve, which will now be among the most connected in the world."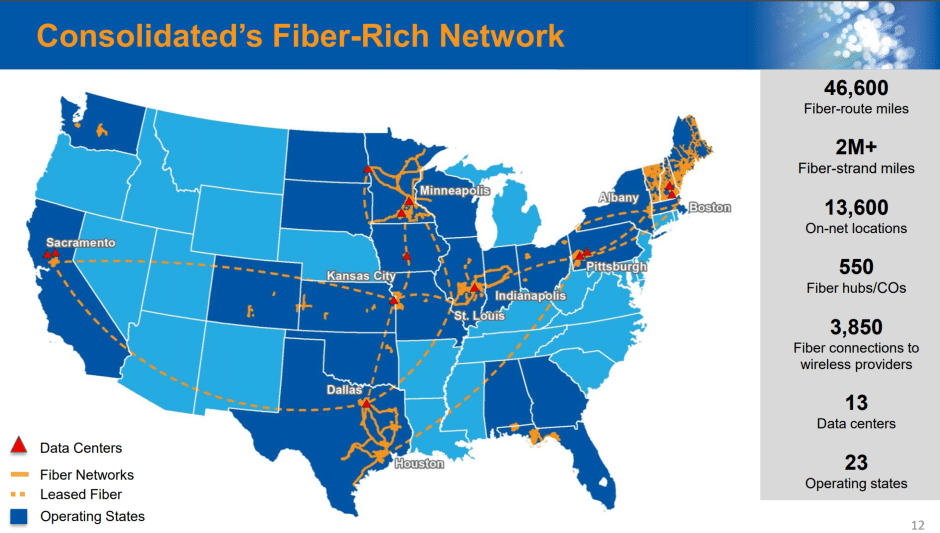 Consolidated won almost $59 million through the RDOF auction to bring broadband to the 27,000 locations, which are in seven states. The carrier estimated late last year that it can build to 150,000 locations that are in close proximity to the RDOF locations. 
The service provider set a goal of reading 300,000 new locations this year on the road to its larger goal of eventually serving 1.6 million locations in its 23-state footprint.
The growth will in part be financed by an investment by Searchlight Capital Partners. In September, the firm agreed to pay $425 million in exchange for 35% of the service provider.