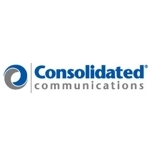 Consolidated Communications said it has moved into northern New England with the telecom company's security solution, giving businesses a fully-managed, highly-available security option. The Consolidated On-Site Secure package includes four core feature sets that together secure user applications in addition to thwarting threats that impact business continuity, the company said.
The security platform inspects all traffic on the customer's network – including applications, threats and content, while also identifying malicious attempts to damage networks, according to Consolidated.
"In today's world of mounting cyberattacks, it's paramount for businesses to have a solution in place to proactively secure their critical data and applications," said Lisa Leary, vice president of business sales at Consolidated Communications, in a prepared statement. "Consolidated's On-site Secure solution provides state-of-the-art security, guarding against an ever-growing list of sophisticated attacks, before they happen. This reduces response times to incidents, mitigates end-user downtime and decreases security operation costs for businesses."
For On-site Secure, Consolidated Communications administers and manages all updates and upgrades, and provides customers with reporting and administration tools, while also working with customers to streamline security network deployment.
Consolidated On-site Secure is the most recent business service the company has added for its northern New England customers, who can also select Consolidated's MPLS, SD-WAN, Cloud Peer Connect, BusinessOne and DDoS Mitigation offerings.