Consolidated Communications' plan to purchase FairPoint communications, announced this week, would make Consolidated more dependent on legacy services – at least initially. Currently Consolidated gets 82% to 83% of its revenues from broadband and business services, but a combined Consolidated FairPoint would get only 72% of its revenues from those higher-growth areas, said Consolidated President and CEO Bob Udell at the UBS Global Media and Communications Conference today, which was also webcast.
Udell sees that as an opportunity and hopes to repeat a "playbook" the company has used with previous acquisitions. "We've been successful in transitioning properties from a little more dependency on residential voice and consumer to a stronger mix including business and broadband, and we expect this to be no different," said Udell.
He added that "we're very good at using and nurturing the cash flow that comes from the company's customer group and to build and transition that to a broadband-centric sustainable revenue stream."
Achieving that goal is likely to require investing in the FairPoint properties. Accordingly, Udell noted that Consolidated is projecting synergies of only about 9% to 10% of cash operating expenses on an annual basis as a result of the acquisition.
"It's a smidge conservative because we want to have room for investment in these areas to improve the churn rate," he said.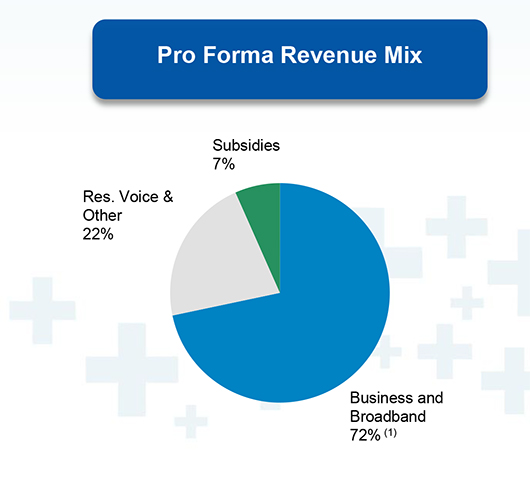 Consolidated FairPoint Plans
Consolidated will encounter substantial competition in some of FairPoint's markets, particularly in New England. Consolidated's competitive strategy, Udell said, is to constantly invest in refining customer service and satisfaction rather than emphasizing promotional offers.
FairPoint also has some rural markets with little competition. In those markets, Udell would expect to use tactics Consolidated has successfully used in serving existing rural markets in Illinois and Texas.
"We're very good at embedding ourselves in those communities and becoming a partner for economic development," Udell said. "When we embed people or find the employee that exists there that is an opinion leader to help give us intelligence in terms of what's important to that community, we leverage that effectively."
Before making the decision to purchase FairPoint, Consolidated enlisted a third party to look closely at FairPoint's fiber assets and to investigate the marketing opportunity within 5,000 feet of those assets "and it's good," Udell said.
IT Services Divestiture
Also this week, Consolidated sold the IT equipment and services business it gained when it purchased telecom service provider Enventis to ePlus. Having that business in house helped Consolidated develop cloud services but the business couldn't scale, Udell said. The solution was to sell the assets to ePlus but to establish a joint marketing agreement with ePlus that will be in place for at least two years.