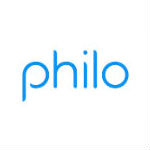 With regards to OTT streaming services, the more the merrier appears to be Consolidated Communications' strategy. The service provider with major operations in the Northeast, Midwest, and California just added OTT streaming service Philo to a growing list of streaming options for their broadband customers.
Philo, a vMVPD focused on lifestyle and entertainment content, offers a streaming 40 channel line-up for $16 per month. Channels include A+E Networks, Discovery, Scripps Networks, HGTV, HISTORY, Lifetime, TLC, Travel Channel and others. Sports programming is not included.
Additional channels can be added for $4 per month. Philo is offering a seven-day free trial to Consolidated customers.
Consolidated and Philo say that this is the first distribution/resale agreement between a broadband provider and the OTT company. Philo did just ink a deal with NCTC to offer the same type of distribution agreement to hundreds of smaller cable and broadband providers throughout the country.
"We're thrilled to partner with Consolidated Communications as the first broadband provider to offer Philo," said Andrew McCollum, chief executive officer at Philo in a prepared statement. "Together, we are delivering an innovative product experience and content package at an incredible value to customers."
Consolidated OTT Streaming Options
Consolidated is embracing streaming OTT, despite offering their own traditional pay-TV package. In addition to Philo, the carrier has now inked deals with DIRECTV NOW, fuboTV, HBO Now, and Vemox/Flixfling. Offering options is clearly the strategy.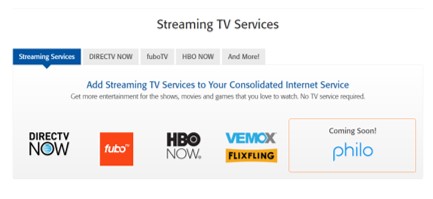 "Today's families want more viewing options and the content they choose," said Rob Koester, vice president of product management, consumer services at Consolidated Communications in a prepared statement. "We're constantly trying to improve the customer experience and expand our streaming services. Philo is a perfect fit for Consolidated's high-speed internet customers who choose to complement or not subscribe to a traditional TV package."
Traditional TV providers are performing a balancing act. Offer traditional TV, in which they have invested significant resources, while also offering alternatives to a growing audience who consume video differently. The goal of course is to get everyone buying broadband, and allowing those customers to then choose their video method of choice.