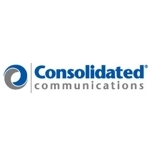 Consolidated Communications has joined the ranks of service providers offering work from home, or WFH, services that provide features and functions equivalent to traditional office settings. The offering, dubbed Consolidated Enterprise@Home, offers business-class Internet connectivity and unified communications by extending the corporate LAN to those residences.
Services are administered via SD-WAN and Cloud Secure technology. Consolidated is emphasizing management simplicity by offering a single invoice for all employee home offices. This, the company says, eliminates the hassle of employee expense reimbursements and makes activating new locations easier. Businesses can pay through an online portal.
The service is available throughout northern New England for companies with 20 employees or more. Pricing is based on the number of employees and the services they take.
With Enterprise@Home, "remote employees enjoy business-class bandwidth in their homes and avoid frustrating slowdowns and choppy connections," Doug Abolt, Consolidated Communications' vice president of commercial product management, said in a press release. "By choosing a dedicated connection unaffected by family smartphones, PCs, streaming TVs or gaming, employees can effectively host virtual meetings, transfer large files and run key business applications while working from home. And Consolidated manages everything – all service requests, dedicated technical support and billing so employees can focus on their work."
Though the Consolidated Communications' press release doesn't mention it directly, the WFH universe is growing due to the COVID-19 pandemic. The theme of the new entrants to the market is offering connectivity independent of existing residential services. This is a key change from previous work-at-home arrangements, which generally leveraged existing residential connectivity.
In May, AT&T introduced Home Office Connectivity, a service leveraging its wireline and wireless infrastructure to provide its business-class services to residential subscribers.
Cox followed suit last month. Cox Business' Work-at-Home services feature discreet enterprise-grade connections to employee homes, enterprise-level security from McAfee and MailBlock, business-grade SLAs and other features, the company said.
We can now add Consolidated Enterprise@Home to the list of WFH offerings.