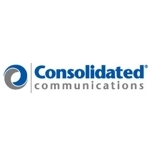 In a press release focused on the state of Maine, Consolidated Communications Holdings said it has exceeded its year-end 2018 FCC Connect America Fund Phase 2 (CAF II) program goals. and now has completed 304 broadband projects. That's more than 80% of its funded locations. The requirement for 2018 was to complete 60%.
"Residents in these rural communities – some of which lacked internet connectivity altogether – now have broadband internet with speeds of 10 Mbps up to 100 Mbps," Michael Shultz, Consolidated Communication's, vice president of regulatory and public policy, said in a press release. "Consolidated Communications is committed to bringing faster broadband speeds and enhanced services to Maine. And, we're continuing to invest to offer enhanced products and services, and increased network reliability and stability."
The company accepted $13.3 million in annual CAF funding for the state. The funding has enabled Consolidated to deploy 500 fiber miles to serve more than 21,000 residents. Seven communities, in particular, have benefited from the program, the carrier said, although it did not elaborate. Those communities include Fort Fairfield, Madison, Millinocket-East Millinocket-Medway, Brooklin, Dover-Foxcroft-Guilford-Greenville, Bingham and Greenbush.
Last year, Consolidated Communications upgraded infrastructure supporting more than 500,000 locations across northern New England. More than 200,000 of these are located in Maine. The company said that speed increases of two to three times were achieved and customers can now use streaming services.