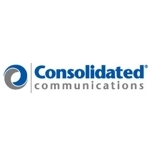 Consolidated Communications Holdings Inc. today reported 2Q 2009 total revenue of $102 million as compared to $106.4 million (down 1.4%), net cash from operations of $28.6 million and a dividend payout ratio of 53.3%. Declines in Local Calling Services, Long Distance and Network Access were partially offset by increases in Data and Internet Services and Other Operations.
The company completed its North Pittsburgh systems integration on-schedule and in-budget;  its pair bonding roll-out continues with an additional 40,000 homes to be passed by year-end; and IPTV additions surpassed 1,500 for the quarter, rising 41% year-to-year, management reported .
"We are pleased with our overall second quarter results and our best-ever quarterly payout ratio," said Bob Currey, president and CEO.  "Operating metrics were in-line with our expectations with access line losses continuing to moderate, DSL adds seasonally soft and IPTV maintaining strong growth.
"In addition to delivering solid results, we accomplished two major corporate initiatives in the quarter.  First, we completed the final phase of the North Pittsburgh systems integration on schedule and on budget.  Second, we introduced pair bonding technology adding 5,000 homes passed in the quarter and setting us up to pass another 35,000 homes with IPTV over the next two quarters."
2Q09 Operating Highlights
449,925 total connections, falling 1.2% from 455,281 a year ago
Total local access lines of 254,593, down 8% from 276,793 a year ago
ILEC broadband connections totaled 115,387, up 14.6% from 100,687
DSL subscribers of 95,656, up 10.5% from 86,575
IPTV subscribers of 19,791, up 39.8% from 14,112
ILEC VoIP lines totaled 7,883, up 92.8% from 4,088 a year ago
CLEC access line equivalents of 72,062, down 2.2% from 70,411
2Q09 Financial Highlights
Net income of $7.5 million ($0.25 per share diluted), up from $0.2 million ($0.01 per share diluted due to after tax charges associated with debt redemption) in 2Q '08, an increase of 365%
Adjusted net income (excluding the effects of the above-mentioned debt redemption) in 2Q '09 totaled $7.9 million as compared to $6.4 million a year ago, a 23.44% increase
2Q operating income totaled $18.9 million as compared to $21.1 million in 2Q '08, down 10.43%
First half net income of $10.8 million ($0.37 per share diluted) versus $3.9 million ($0.13 per share diluted) a year ago, up 177%
First half net cash from operations totaled $48 million compared to $42.2 million for first half 2008, up 13.74%