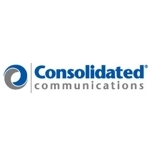 Consolidated Communications is adding a managed security offering to their Consolidated cloud services portfolio. The new managed security offering, Cloud Secure, will guard against a growing number of security risks and intrusions to data networks of business customers.
"We are very excited to add Cloud Secure to our suite of cloud services helping businesses of all sizes to proactively guard against system intrusions and security threats that put critical applications and data at risk," said Darren Peterson, vice president of product marketing at Consolidated Communications, Inc. (CCI) in a press release. "Our comprehensive suite of cloud services enables businesses to reduce their overall operating costs and improve efficiencies."
The offer will be available across Consolidated's 11 state footprint, except in their newest territory, Champaign, Ill., which came from a recent acquisition. Consolidated cloud services are available to any business within this footprint and they don't have to be Consolidated data connectivity customers, although Consolidated says a bundled offering provides the best value.
"If we look at businesses in close proximity to our network, that's approximately 550,000," says Peterson in an interview with Telecompetitor.
Cloud Secure features will include threat prevention, URL filtering, cloud-based malware analysis, and network security on any device, according to the company. The service leverages the Palo Alto Networks next generation security platform, according to Peterson.
Cloud Secure joins a growing list of Consolidated cloud services including:
Unified Communications
Cloud Compute
Data Protection
Cloud Wifi
Consolidated declined to offer total subscriber counts for their cloud services portfolio. According to Peterson, Unified Communications is their best selling cloud service, followed by Cloud WiFi . "We expect Cloud Secure to rival the growth trend of our Cloud Wifi offering," he said.
Shifting Strategies
Consolidated and carriers like them are expanding business service portfolios, with particular emphasis on cloud services. Consolidated has been working to transform their business away from legacy local service to a broadband and business focused service provider.
That strategy has included significant M&A activity for the Matoon, Ill. based carrier. Their most recent acquisition, FairPoint, will impact this strategy a bit, increasing their dependency on legacy services revenues from 10% to 27% of total revenue. But Consolidated CEO Bob Udell recently addressed this shift, citing their track record of successfully transitioning legacy focused properties to more business and broadband revenue opportunities with the cash flow generated by legacy services.