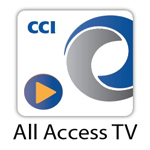 Consolidated Communications has launched a new TV app, dubbed CCI All Access, to support the company's TV Everywhere offering. The CCI All Access app lets Consolidated Digital TV subscribers watch content on Apple and Android devices.
The app is free for Consolidated Digital TV subscribers and provides "additional viewing options beyond traditional TV," today's press release said. The company referenced live streaming and on-demand shows, movies and sporting events available via the new app. It acts as a single consolidator for subscribers to access authenticated TV Everywhere content made available from participating networks.
As Telecompetitor previously reported, Consolidated has leveraged this TV Everywhere offering to their competitive advantage. Back in May, Consolidated CEO Bob Udell told attendees at an investor conference that the company's TV Everywhere portal was seeing some success and creating differentiation for the growing broadband carrier.
CCI All Access App
The Consolidated CCI All Access App provides a single access point to more than 100 channels and third party content providers including Netflix, Hulu, Amazon and HBO, today's press release noted. Rather than subscribers having to access individual TV Everywhere apps from individual networks, they can access them through this single app from Consolidated.
While only Apple, Android, and laptop/PC devices are supported now, Consolidated says additional devices will be supported soon, including being able to 'cast' to TVs, a FAQ section on their website says.
Many smaller providers like Consolidated have relied on the WatchTVEverywhere application from NCTC for a TV Everywhere option. It also consolidates authenticated TV Everywhere content from individual networks and provides a TV Everywhere portal for smaller providers who typically don't have the resources to develop their own TV Everywhere application. Consolidated's CCI All Access app takes this approach one step further by providing a branded experience for their subscribers, as well as implementing additional features like OTT app integration and bookmarking of shows.
"It's a great way to search across all networks and third parties such as Netflix and Hulu, stream live shows or bookmark and watch something later," said Rob Koester, vice president of consumer product management at Consolidated, in today's release.
The announcement of the CCI All Access App comes just a few weeks after Consolidated closed on its merger with Fairpoint Communications. That was a major merger that increased the number of states Consolidated serves from 11 to 24.
Udell has said that Consolidated wants to gain more broadband customers in FairPoint territories and by making Consolidated's video offering more attractive, the CCI All Access App should help the company make progress toward that goal. Consolidated no longer offers video as a stand-alone offering because of high content costs, which means that any customer signing up for Consolidated video service automatically becomes a broadband customer via a bundled offering.
TV Everywhere is becoming an increasingly important element of pay-TV providers' strategy due to its mobile and device components. Consolidated's news highlights an evolving approach for smaller operators to build their own TV Everywhere branded experience. It won't be surprising to see more smaller providers follow Consolidated's lead.
Bernie Arnason contributed to this post.