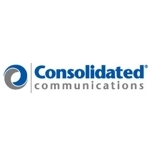 Consolidated Communications, Inc., has gone over the half-million threshold in terms of broadband upgrades the company has completed across northern New England, the company announced yesterday. These latest Consolidated broadband upgrades will make speeds of 60 Mbps to 80 Mbps available to customers who previously were seeing 20 Mbps, according to a Consolidated spokesperson.
These upgrades occurred in markets that Consolidated acquired from FairPoint. In October, we reported that Consolidated had provided more than 365,000 residents and businesses across Northern New England with faster broadband speeds.
Consolidated is using VDSL2 and VDSL bonding to achieve the higher speeds. The company has previously said the sweet spot for broadband access in many of their markets is 50 – 60 Mbps.
"We're pleased to complete our commitment to upgrade 500,000 homes and small businesses throughout Northern New England with faster broadband speeds," said Bob Udell, president and chief executive officer of Consolidated Communications, in a prepared statement . "We're committed to bringing faster broadband speeds and enhanced services to Maine, Vermont and New Hampshire. And, we're continuing to invest to offer enhanced products and services and increased network reliability and stability."
Among the benefits of the company's upgrades include streaming content from HBO Now, DIRECTV Now and fuboTV, the ability to place orders online and, for businesses, Consolidated's Distributed Denial of Service Mitigation (DDoS); SD-WAN, a software-based network technology that provides a simplified management and automation of WAN connections and BusinessOne, a high-speed data and voice solution designed for small and medium-sized businesses.