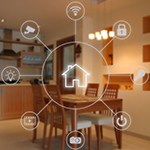 U.S. broadband households now average more than 10 connected devices, according to new connected home research from Parks Associates. This means that compatibility with existing devices in the home will grow in importance.
Home platforms, which are a mix of CE, smart home and connected health equipment, will rely on voice control, video and data analytics, sound recognition and AI to simplify user experience, according to "Technology Convergence and the Smart Home."
"Interoperability continues to be a leading challenge for the smart home industry," Parks Associates Research Associate Chris O'Dell said in a press release. "Nearly 75% of consumers who intend to purchase a smart home device in the next year report that the ability for that device to work well with other devices is an important factor in their purchase decision. This challenge intensifies when consumers purchase stand-alone devices at different times, from different brands, rather than purchasing smart home systems."
The report also found that 30% of computing and entertainment owners experience loss of connectivity. The most common problem is the home network router. Mesh networks are considered the best means of meeting the challenge.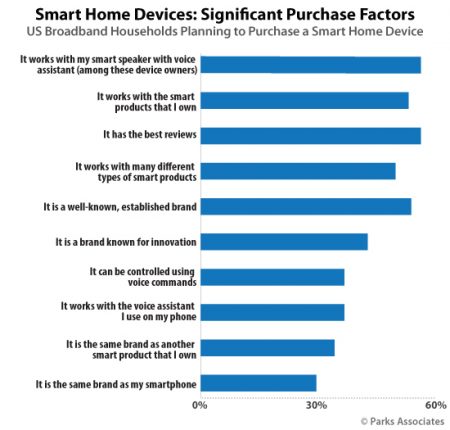 The top smart home device purchasing criteria are compatibility with already purchased equipment, positive reviews and that it is a "well-know, established brand." Each scores in the 60% range, though the compatibility question only is relevant to people who own other devices. The least important factor is that it is the same brand as the respondent's smartphone.
Other findings in the research:
67% of consumers rate "alerts when someone enters your home," as a key video analytics capability. It is the most appealing among a range of home security features.
75% of US broadband households want to keep tight control over their personal data and 45% are "very concerned" about hackers gaining control of their connected devices.
Smart home purchase intentions have increased from 21% at the beginning of 2014 to 43% at the end of 2018. Parks found that 31% of consumers reporting high intention to purchase one of these devices.